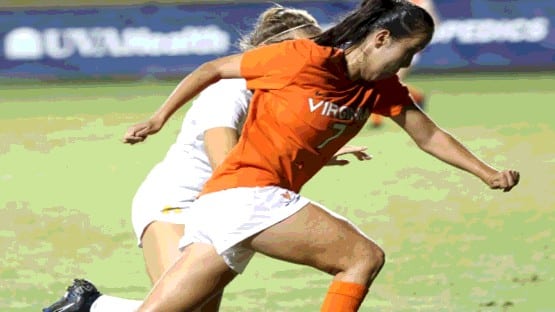 Maggie Cagle delivered a brace and three different Cavaliers scored as No. 5 Virginia went on the road and claimed a 4-0 victory at George Mason on Sunday.
Virginia (3-0-1) struck in the sixth minute as Talia Staude found Yuna McCormack on a run in behind the defense down the left side. McCormack then slotted it back across the box to Maggie Cagle for the strike and the opening score.
The Hoos' second goal came in the 27th minute as Samar Guidry found Yuna McCormack out wide on the right side. McCormack then sent it over the top of the defense to Talia Staude who headed it into the upper corner of the back post.
Cagle struck for the second time in the 58th minute. A goal kick to midfield was headed back toward goal and flicked on by Meredith McDermott ahead to Cagle who picked it up on the run and fired it past the keeper for the 3-0 lead.
The final goal came in the 88th minute as Sarah Brunner served a ball into the six where Allie Ross got up past her defender enough to head it down into the goal for the score.