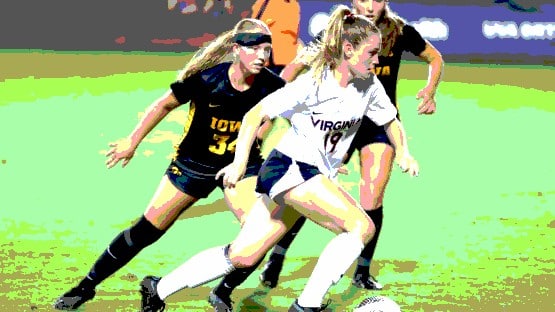 No. 18 Virginia walked off the field in a scoreless draw with Iowa at Klöckner Stadium on Thursday night.
Each team had limited opportunities in the first half with Iowa (5-0-1) holding a 4-to-2 edge in shots at the break. The two UVA (5-0-2) chances came on strikes from Yuna McCormack and Maya Carter that went out over the crossbar.
A physical second half that saw three yellow cards on Iowa players the Cavaliers get 11 shots to only one for the Hawkeyes. Allie Ross had one of the best chances as she found the ball at her feet approaching the six on a combo play, but the shot to the near post was saved by the keeper.
A few moments later, Jill Flammia would strike from distance with a shot punched over the crossbar.
"Our quality got better as the game went on, but it still was not enough to create and finish a goal for us," UVA coach Steve Swanson said. "Credit Iowa because they fought hard and were organized. That's two games now, tonight and the Michigan game, where we were left wanting a little bit. Hopefully we can learn from those two games in particular because I think that's what we will get a lot for the next 10 games."