Sports
Women's Basketball: Furious North Carolina rally lifts Tar Heels past Virginia, 70-59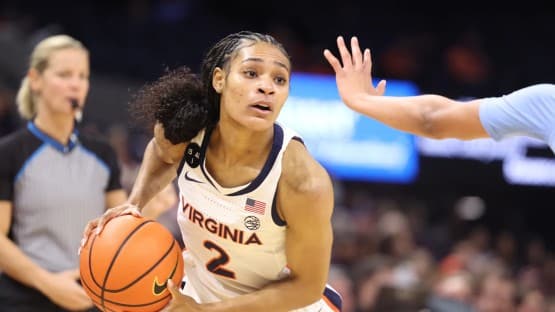 Virginia had a nine-point lead with 6:46 to go, but #22 North Carolina closed on a 22-2 run to post a 70-59 win on Thursday at JPJ.
A Carole Miller three put UVA (13-4, 2-4 ACC) ahead 57-48 early in the fourth, but UNC (11-5, 2-3 ACC) clamped down the D, forcing eight turnovers in the final 6:46, as the Cavaliers were just 3-of-15 from the floor in the final 10 minutes.
Taylor Valladay topped the Cavaliers with 16 points while Sam Brunelle added 15 points, all off of three-point shots, while grabbing a season-high nine rebounds.
Deja Kelly and Kennedy Todd-Williams led North Carolina with 21 points each. Todd-Williams scored 11 in the final period to set her season high in scoring.
"We had some self-inflicted errors, just some things defensively we need to clean up and hit a couple more shots, and it'd be a different game," Virginia coach Amaka Agugua-Hamilton said. "But I liked the progress that we're making. I thought our team battled. I thought we competed and really got better in certain areas, but we just got to clean up some stuff."