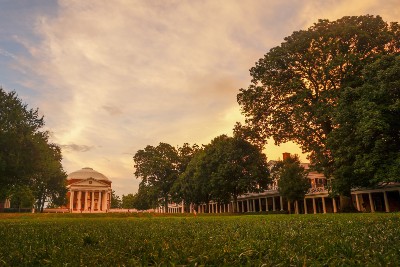 Virginia Athletics would have been $9 million in the hole in 2021 without the money it collects from students in the form of mandatory athletics fees.
Data from the Knight-Newhouse College Athletics Database shows that the athletics program at UVA reported $105.4 million in revenues and $101.2 million in expenses in 2021, leaving what would amount to a $4.2 million profit, if athletics programs weren't actually organized as non-profits.
We'll just call the $4.2 million "the money left over at the end of the year," and then weigh it against the $13.2 million in mandatory athletics fees that students pay.
That works out to $720 per student per year, money that ostensibly covers the cost of student tickets to varsity sports contests, which is nice, except that those free tickets are based on availability.
It's not hard to find a spot for 18,000 undergrads in Scott Stadium, which has a hard time getting 40,000 total into its 61,500 seats most fall Saturdays, though the University officially caps the number of student tickets at 13,000, for what reason god only knows.
The 14,600-seat John Paul Jones Arena is a different issue. Student seating is limited to nine lower-level sections and two in the nosebleeds, and thus is available on a first-come, first-served basis, and if you want to score tickets to Duke or UNC in January or February, there's a point system that makes it so that you'd better be there for Frackensburg State in November.
So, the $720 covers game tickets, kinda, sorta.
Next, to where that money comes from.
A third of UVA students take out something in the way of student loans, and UVA grads who take out student loans graduate with an average of $25,194 in student loan debt, according to CollegeConfidential.com.
At $720 per year, assuming the University doesn't raise those fees, and it will, of course, but anyway, we'll assume not, so you're talking $2,880.
That's 11.4 percent of what the average UVA grad taking out a student loan will have to pay back, with interest, to account for those mandatory fees.
The same $2,880 comes out of the financial aid that another third of UVA undergrads receive to be able to attend the University.
Even if mom and dad are able to pay full freight, that's $2,880 that they could no doubt put to some other, maybe better, use.
That the fees are mandatory is one reason to get riled up.
Another: why can't the athletics department live on its own, without having to fleece the student body to make sure the bills are paid?
The University of Virginia, to be sure, isn't alone in engaging in this practice. Virginia Tech charged its students $10.9 million in 2021; James Madison University, a staggering $46.1 million, 87.2 percent of its $52.9 million athletics budget in 2021.
But not everybody does this. Clemson, for example, which had a $117.4 million athletics budget last year, doesn't. Neither does Oklahoma ($145.7M budget in 2021), Texas ($152.7M budget in 2021), Alabama ($170.2M budget in 2021), Ohio State ($171.3M budget in 2021).
The reality of college athletics is that most programs – essentially, all but a few at the tippy-top of the pyramid – operate at a loss, but presidents and boards of visitors and whatnot don't seem to mind, because when you get down to it, college athletics exists entirely to provide an alternative form of marketing.
Hate to break it to you, but no, the end isn't winning big games and championships.
All the money that goes into big-name coaches and recruiting aimed at winning big games and championships is about getting the school's name on TV in front of millions of people, including prospective students.
The hope is, then, that those prospective students will want to be a Cameron Crazy or a member of the Hoo Zone or a part of the "Enter Sandman" entrance on a Thursday night in Blacksburg.
That's why college sports exist.
I'm not sure how cost-effective it is. I've looked everywhere, but I can't seem to find out what UVA spends on marketing and advertising, though I'd bet it's more than $100 million, out of what is a $4.8 billion operating budget for 2022-2023.
That $13.2 million that UVA passes off on its undergrads to help balance the books for athletics is pennies on the dollar in the context of a $4.8 billion operating budget.
Actually, doing the math, it's a fraction of a single penny on the dollar.
None of this makes any sense.