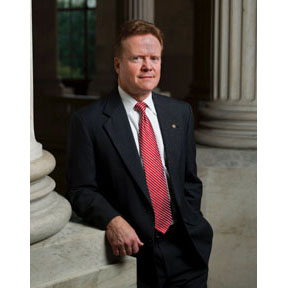 Sen. Jim Webb (D-VA) joined Sens. Tom Coburn, M.D. (R-OK) and Dianne Feinstein (D-CA) to introduce the Ethanol Subsidy and Tariff Repeal Act, which will fully eliminate the Volumetric Ethanol Excise Tax Credit (VEETC) and repeal the import tariff on foreign ethanol. The bill is similar to legislation sponsored by Webb earlier this year, and has been filed as an amendment (#309) to the small business bill pending in the Senate.
"Eliminating or reducing ethanol subsidies and trade barriers would help decrease the budget deficit, benefit the environment, and lessen our reliance on imported oil," Webb said. "Historically our government has helped a product compete in one of three ways: subsidize it, protect it from competition, or require its use. Ethanol may be the only product receiving all three forms of support from the U.S. government at this time."
Webb has long been concerned about the negative effects of ethanol protections in the United States on other sectors of the economy. In November 2010, he signed a bipartisan letter with 16 other Senators that called for an end to ethanol subsidies and tariffs. Webb also partnered with Senators Feinstein and Shaheen in December on an amendment to tax legislation that would redirect funding from ineffective ethanol subsidies and tariffs toward advanced energy technologies and U.S. deficit reduction.
The VEETC is a de facto cash subsidy that directs 45 cents to refiners for every gallon of ethanol they blend with gasoline. The VEETC costs taxpayers approximately $6 billion a year. If the VEETC subsidy is repealed by July 1, 2011, as the bill calls for, it will save approximately $3 billion this year.
The ethanol tariff is comprised of a .54 cent 'Most Favored Nation' duty and a 2.5 percent ad valorem tax. The tariff makes our nation more dependent on foreign oil by increasing the price of imported ethanol.
Cosponsors also include Sens. Ben Cardin (D-MD), Richard Burr (R-NC), Susan Collins (R-ME), and James Risch (R-ID).