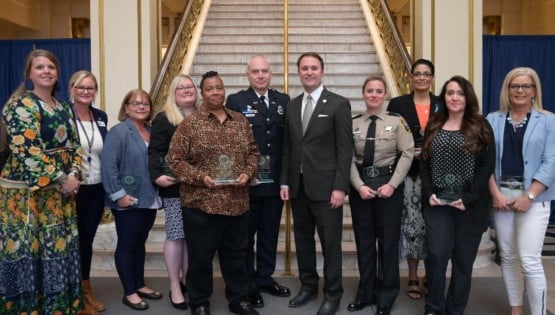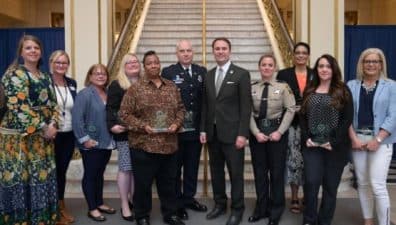 The 6th Annual Unsung Heroes Award Ceremony was held last week.
The awards recognize Virginians who provide exemplary service and support to victims of crime, and were established by the Office of the Attorney General.
"Unsung heroes work tirelessly for others, never seeking the limelight, and, instead, serving as a light to crime victims who are often facing the darkest, most unmooring time in their life," Attorney General Jason Miyares said. "Our unsung heroes wake up every morning, not knowing what horrors or pain the day could bring and go to work because they know that there are victims who need their help. Their resilience and determination to make a difference in a victim's world inspires me every day."
Kristan Crummett is Victim Witness Coordinator for Waynesboro Victim Witness and Magnolia Rose. She co-founded Magnolia Rose, a nonprofit organization that assists human trafficking victims.
Linda Ellis-Williams, Director of Domestic Violence for YWCA in Lynchburg, has provided hope for victims of domestic violence for 32 years. She opened Frannie's House, and worked to open the Haven of the Dan River Region Domestic Violence Shelter in Danville. She is now working on helping Farmville regain funding for its domestic violence shelter.
Jennifer Baron, a master police officer, has been with the Norfolk Police Department for 17 years. After serving as a detective for 10 years, she came to the Special Crimes Unit and focuses on helping victims of sexual assault and domestic violence. In 2019, she created the Norfolk Family Justice Center within the police department.
Detective Adrienne Beale has been in law enforcement for more than 18 years, and 12 of those years with the Town of Orange. She is the only full-time detective who works on sexual assault cases for the police department.
Judy Clark has been the Domestic Violence and Sexual Assault Outreach Advocate for Abuse Alternatives, Inc. in Washington County for 12 years. She is the only trained advocate in the county in southwest Virginia. She is also co-chair of the Washington County and City of Bristol Coordinated Community Response Team for Domestic Violence, chair of the Jurisdiction's Sexual Assault Response Team, a Bystander Intervention Trainer, and member of the statewide VCU training team that educates law enforcement about victims of violence over age 50.
Detective Lorraine Goldberg has served the Loudoun County Sheriff's Department for four years, and one year with the Domestic Violence Unit. She also provides instruction at the Criminal Justice Academy on domestic violence and strangulation. She has advocated for legislative change to provide justice for domestic violence victims whose perpetrators attempted to strangle them.
Christopher Hudspeth, a Master Firefighter/Paramedic for Chesapeake Fire Department, has been with the department for 12 years. He previously served 20 years in the U.S. Marine Corps where he was deployed to Iraq, Afghanistan and Africa. His experience in combat zones informs his passion for saving lives as a Firefighter Paramedic. He developed a medical training program for the officers of the police department that includes basic academy classes, in-service training and specialty teams training.
Charlene Tammy Jones, Deputy Director of Richmond Victim Witness Services, has served crime victims for 27 years. Her safety planning assistance helps guide victims through the Criminal Justice System while seeking help with the legal battle facing their abusers. Since 1996, she has assisted the family members of more than 130 homicide victims. She provides support to crime victims promptly after the criminal incident occurs, during the legal proceedings, and follows through with assistance after the court process is finalized.
Ashley Manuel, LAP Coordinator for the Wythesville Family Resource Center, joined the center's staff 10 years ago as a Victim Advocate. She became the Lethality Assessment Protocol Coordinator several years ago. Her previous work was as a case manager at a homeless shelter, a probation officer, at a children's group home and at an addiction recovery center. He implemented the Lethality Assessment Program in Wytheville, and programs are now available in Carroll County, Dickenson County, Grayson County, Galax City, the Town of Independence, Smyth County, and Wythe County.
Karen Mortensen is Director of New Kent/Charles City Victim Witness Program. She opened Bridges of Change Domestic Violence Shelter, a 10-bed facility where victims can receive a safe place to stay, food and job training opportunities.