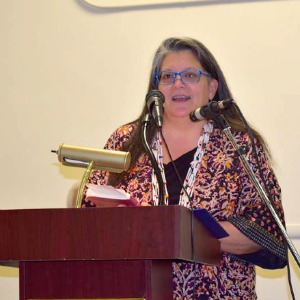 Deborah Miranda, the John Lucian Smith Jr. Memorial Term Professor of English at Washington and Lee University, is one of the 2015 PEN Oakland-Josephine Miles Literary Award winners. She received the prize for her book "Bad Indians: A Tribal Memoir," (Heyday Books, 2013) on Dec. 5 in Oakland, California. Last year she received an IPPY Award for the book.
PEN Oakland has been called "the blue collar PEN" by the New York Times. Each year PEN Oakland presents an award to outstanding book titles published in the previous year. Judged by respected writers, the awards honor books that both reflect a multi-cultural or marginalized viewpoint and represent the highest standards of literature.
"Bad Indians," part tribal history, part lyric and intimate memoir, tells about California Indian history, past and present. In it, Miranda tells stories of her Ohlone Costanoan Esselen family as well as the experience of California Indians as a whole through oral histories, newspaper clippings, anthropological recordings, personal reflections and poems. You can read more about her book here.
In addition to "Bad Indians," her books include "Raised by Humans" (2015) which recently won the Pathfinder Award from the Wordcraft Circle of Native Writers and Storytellers; "The Zen of La Llorona" (2005); and "Indian Cartography" (1999). She co-edited "Sovereign Erotics: An Anthology of Two-Spirit Writing" (2011). Under contract is "The Hidden Stories of Isabel Meadows and other Lacunae of California Indian History."
She also is the author of over 20 articles, 15 poetry anthologies, literary journals (poetry) and book reviews, and given over 50 poetry readings.