Sports
Wake Forest had won 15 straight at home: Gritty Virginia ended that streak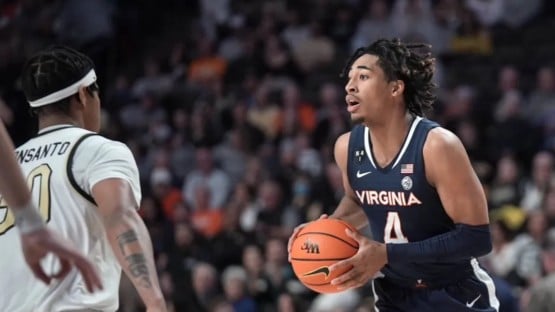 Duke was 14th in the Associated Press college basketball poll when Wake Forest pulled off the 81-70 upset last month. Clemson was 19th when the Demon Deacons captured a 87-77 victory earlier this week.
Today, Wake Forest had its sights set on No. 10 Virginia.
Virginia had other plans.
Wake's win Tuesday over Clemson gave the Deacons a 10-0 home record, and since the start of last season Wake Forest was 28-2 in Joel Coliseum, where they had won 15 straight games.
Had won.
Again, Virginia had other plans.
From the opening tip, it was apparent that UVA didn't fear Wake's homecourt prowess. Led by Armaan Franklin, who scored 18 of his 25 points during the first half, the Cavaliers built up as much as a 19-point lead in the opening half.
And Virginia nearly blew it, before hanging on for a huge 76-67 ACC road win.
It was a day of swings for Virginia. First from missing its first eight shots to suddenly being unable to miss, drilling nine consecutive shot attempts to surge to a 34-15 lead with 5:42 remaining in the half.
Wake refused to fold, however, erasing all but one point of the deficit by the second-half under-eight timeout.
Wake climbed back, but not over.
Virginia hung on, coming up with some clutch baskets to temporarily stop Wake Forest's climb up the league standings.
Wake closed to within four at 71-67 with 52.2 seconds left when Damari Monsanto sank his seventh three-pointer of the game. Monsanto finished with a career-high 25 points, highlighted by making 7-of-15 from three.
Kihei Clark hit two free throws to push the lead back to six. Wake's Tyree Appleby, who had a horrendous day offensively, then missed a driving layup after getting past Franklin.
UVA rebounded, Wake fouled, and Clark followed with two more free throws to push the lead back to eight with 30 seconds left, which sent the home fans packing.
Despite the near second-half collapse, the Cavaliers still found a way to secure a big road win against a surging Wake Forest team. The win moved UVA moves to 15-3 on the season and 7-2 in the ACC.  The Cavaliers are one of only three teams in the league with two or less in-conference losses.
A big takeaway today must be first-year player Ryan Dunn. In the win, Dunn had eight rebounds, and his defensive impact is game-changing. Dunn is big enough to guard bigger players, but quick enough to stick with the smaller, faster players.
Virginia, despite the horrendous shooting to begin the game, finished hitting 15 three-pointers against Wake. Isaac McKneely stayed hot with 11 points on 3-of-6 from deep.
The 15 made threes are the most for UVA in a game since 2021, when Virginia blasted Clemson on the road.
So today we get the streaky version of UVA basketball.
And today it was good enough to leave with a win.
We'll take it.