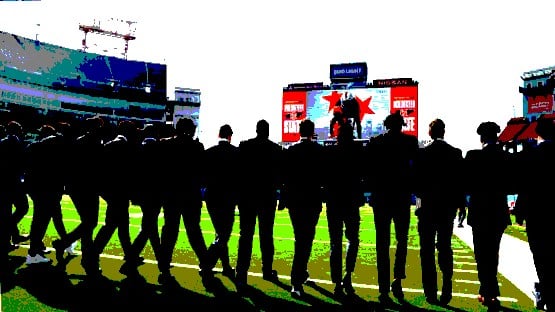 I made the trip down to Nashville to be on site for the first UVA football game since what happened on Nov. 13.
Wanted to be here to feel the emotion of the moment.
I expected more.
What I'm coming to realize is, like a lot of people who have suffered a loss of a family member have come to realize in their own lives, the world has moved on.
I saw a smattering of UVA fans when I walked the concourse wearing "UVA Strong" T-shirts honoring Lavel Davis Jr., Devin Chandler and D'Sean Perry – 1, 15 and 41.
There was a nice moment of silence about 20 minutes before the opening kickoff.
The UVA team ran out from the tunnel with two guys carrying flags – the UVA flag and a U.S. flag.
The U.S. flag was, appropriately, at half-staff.
But once the game started, it was, and this was a bit depressing to me, just a football game, and not a good one for the guys in orange and blue.
The focus, quickly, shifted back to where we were back on Nov. 12: to how the offensive line can't block, how the offense can't move the chains enough, keeping the D on the field too long.
Today, that made it hard to sustain what had been a solid first-half effort from that side of the ball.
That was how Virginia was able to hang around for a while, but Tennessee eventually separated, as expected, and we leave here with tons of football questions.
Tony Elliott is now 3-8 at Virginia.
His offense is still god-awful, maybe, and this didn't seem possible, a step or two back from last year's disaster.
His team was competitive for 28 minutes here today, but the offense was abysmal from the get-go, putting up two yards of total offense in the first quarter, 65 in the first half.
And then, with the game out of hand, down 42-10 in the fourth quarter, starting QB Tony Muskett left with a left shoulder injury, the worst of all worst-case scenarios for UVA, considering how thin the roster is at QB.
That's all football stuff.
The feel-good story that I'd hoped we'd see didn't materialize here today.
Actually, let me go back on that: there was one.
Mike Hollins, who miraculously survived the Nov. 13 mass shooting, was back on the field.
Stats-wise, Hollins had four touches for a net negative-5 yards.
He played; dude is inspiring.
Whatever his stats are, Mike Hollins being back on the field is a feel-good thing.
It might be the only thing to feel good about with this program this year, though.