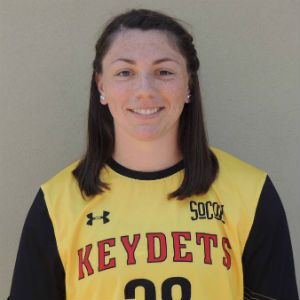 With the VMI women's soccer team off to its best start in program history, the team earned another first-time honor Tuesday as senior goalie Ceci Keppeler was named the Southern Conference Player of the Week.
The award marks the first time a member of the VMI women's soccer program has achieved the honor since re-joining the Southern Conference in 2014.
The Stafford, Virginia, native achieved the recognition after she registered her third shutout of the season when the Keydets defeated American, 1-0, in double-overtime on a stormy Saturday afternoon at Patchin Field. The win was her second consecutive shutout and she has allowed only one goal in 3.5 games played this season. She tallied a season-high six saves in the victory.
"It's a fantastic honor for Ceci to be named Player of the Week," said fourth-year VMI head coach Chris Bergmann. "It's also a testament to the hard work of the players in front of her. Ceci has been disciplined and focused and doing her job well. Her preparation is solid day in and day out. I'm very proud of how the team is performing."
Several Keydets were named weekly award honorees from 2005-11 as a member of the Big South Conference, but this is the first in program history as a member of the Southern Conference.
The game versus American on Saturday marked VMI's only game of last week as the scheduled contest at Radford was canceled last Thursday due to lightning conditions. With 12 goals on the season already, the Keydets are off to a program-best start in number of goals scored after four games. The 12 goals also currently ranks second in the league.
The undefeated Keydets resume action Friday when they travel to Asheville, North Carolina, for a 7 p.m. match with UNC Asheville. On Sunday, the Keydets face Campbell on the road at 2 p.m. in Buies Creek, North Carolina.