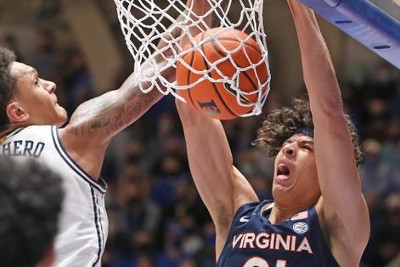 People in and around the Virginia Basketball program are expecting a lot from Kadin Shedrick as he enters his redshirt junior year.
The 6'11" center averaged 6.9 points, 5.1 rebounds and 1.9 blocks per game in 2021-2022, and had monster games in the wins at Syracuse (12 points, 11 rebounds), Duke (16 points, 8-of-8 FG, six rebounds), Miami (13 points, 13 rebounds) and Louisville (20 points, 8-of-9 FG, five rebounds).
Consistency was an issue – Shedrick lost his starting spot after back-to-back goose eggs in mid-January.
Shedrick has been working on that, and trying to add a midrange jumper to his offensive game, to complement his elite skills at the rim.
Shedrick finished 76 percent of his shots at the rim last season. Nearly three-quarters of his shot attempts (73.3 percent) were layups or dunks.
In the midrange, though, Shedrick was a liability, connecting on just 12-of-37 (32.4 percent), according to Hoop-Math.com.
"Every day pretty much since the season ended, I've been working on my jump shot. So, knocking down middies, like, consistently, and maybe stepping out to three every now and then, so yeah, that's what I've been working on the most," Shedrick said after Virginia's 71-41 win over Orange1 Basket Bassano in Florence on Monday.
Shedrick is averaging 12.5 points per game on the trip, which concludes on Friday.
"He's been working his butt off," associate head coach Jason Williford said. "I think he wants to give more minutes and contribute more. But I think for us to be good, those guys have to finish around the basket, ball screen D and protect the rim. He's been finishing, he's running the floor, he made a couple of facing shots today, he's been aggressive. So, we liked it. We challenged him before this one to go to the offensive glass more, and he did that."