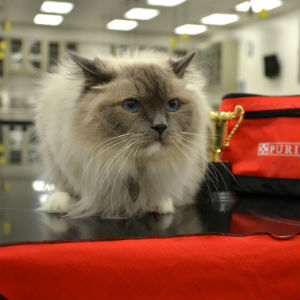 A group of students at the Virginia-Maryland College of Veterinary Medicine at Virginia Tech recently completed an animal health challenge much closer to home than their usual classroom and clinical experiences: They put their overweight pets on a diet.
Last month, the nine cats and one dog participating in the Purina Overweight Management (OM) Challenge, had their final weigh-in to find out which of their furry friends made the most progress over the past six months. The winner was Cricket, a feisty, black-and-white shorthaired cat owned by fourth-year veterinary student Liddy Hepner of Hydes, Maryland.
"Cricket lost about 2 kilograms or just over 4 pounds," said challenge organizer Courtney Walski of Chesapeake, Virginia, a third-year veterinary student. "It was about 30 percent of his body weight."
Walski had first-hand experience with dieting her pets before this year's challenge, which is similar to the popular reality television show "The Biggest Loser." "My cat and dog were both overweight, but I didn't quite realize how much they were overweight until I started the challenge last year," she said.
Her 16-year-old cat, Pumpkin, lost about 23 percent of his body weight last year and saw improved energy levels and mobility. Pumpkin ranked first-place among cats in last year's challenge, while her dog, Lily, ranked second among dogs.
Purina provided pet food for all participants for the fourth consecutive year.  Each animal was fed Purina ProPlan OM, a therapeutic diet specifically formulated for overweight dogs and cats. "We believe veterinary students learn nutrition best using a hands-on approach," said Dr. Lauren Pagliughi, Purina college manager. "The Purina OM challenge is a fantastic way to instill the importance of maintaining a healthy body condition in your own pets and in future patients."
Dr. Megan Shepherd, clinical assistant professor of nutrition in the Department of Small Animal Clinical Sciences, and Dr. Stewart Morgan, clinical nutrition resident, also provided nutrition oversight during the challenge. Because all of the participants were veterinary students, it also had an educational component.
"I gained more experience understanding how to formulate and implement a diet plan," said Jody Morris of Harrisonburg, Virginia, a third-year veterinary student whose cat, Simba, took the challenge. "I also found out food toys are a great way to prolong meals and make him work for his food. My pet's health benefited greatly from simple changes and a consistent feeding program. It's easy once you commit to a plan and completely worth it for the health of your cat."
Although the challenge typically draws an even number of cats and dog, only one dog — Frisco, owned by third-year veterinary studentAshley Moye of Chesapeake, Virginia — took this year's challenge. He ended up losing nine pounds.
"I have no idea how we ended up with so many cats," said Walski, who explained that canine Frisco came close to winning the challenge, but lost to feline Cricket at the final weigh in. "It's actually nice to have that many cats because cats are harder to diet than dogs. They lose weight at a slower rate, they're harder to exercise, and they have a tendency to plateau and stay at a certain weight."
All of the animals lost weight during the challenge. Most of the participants lost around 7 percent of their body weight, and some of them began a maintenance diet after hitting their goal weight. Walski recommends that pet owners who wish to replicate these results follow sound nutrition advice.
"First, they should check with their vet to make sure they understand exactly how much weight their pet needs to lose," she said. "It's also important that their pets lose weight at an appropriate rate. We aim for about 1 percent per week. Anything faster than that is less than ideal for health purposes."
According to a recent study from the Association for Pet Obesity Prevention, an estimated 53 percent of dogs and 58 percent of cats are overweight or obese. However, many owners do not even realize that their pets have a problem. The World Small Animal Veterinary Association has body condition score charts on its website to help both cat and dog owners assess their pets' weight.
Walski is one of a handful of veterinary students who have served as Purina representatives at the college. The others included Caitlin Amiot of Poolesville, Maryland, a third-year student; Jillian Ryan of San Diego, California, a fourth-year student; Dr. Elisabeth Close of Rochester Hills, Michigan, who graduated from the college in May; and Dr. John Gil of San Pedro, California, another recent graduate.