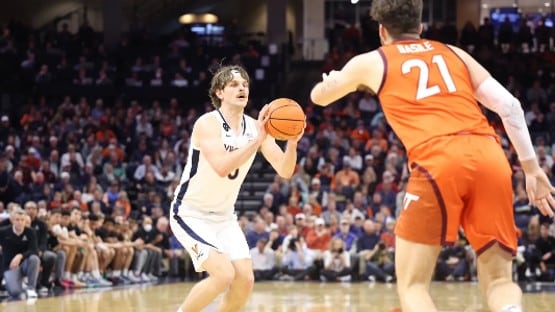 Virginia Tech had a bye this past weekend from ACC play. But the Hokies still lost. Badly.
Just before tip-off Wednesday against Virginia, Tech Athletics announced that talented freshman Rodney Rice broke a finger in his right hand at the end of practice Saturday. Ouch.
Rice will undergo surgery Friday, with no timetable for his return. Rice has played in just one game for Tech this season, after breaking his right ankle in August, just making his Hokie debut last week against Syracuse.
Before Saturday, Tech had hopes before their trip to Charlottesville, knowing they would regain the services of Hunter Cattoor on Wednesday.
At the conclusion of the game, it was the same old story for the Hokies, a loss, their sixth straight, falling to tenth-ranked UVA 78-68 at John Paul Jones Arena.
Cattoor had missed the past four games with a bruised elbow. The injury occurred in a Dec. 21 loss to Boston College. The loss set the Hokies on their current six-game slide.
Cattoor entered the contest as Tech's best three-point threat. Against the Cavaliers, Cattoor had 11 points, six rebounds and five assists.
Veterans key win for Virginia
Virginia, however, turned to a veteran lineup to turn Tech away.
And the veteran of all veterans, Kihei Clark, made the difference. Clark has faced Virginia Tech plenty of times, but very well may have saved his best of the series for his last home meeting with the Hokies.
Clark scored a game-high 20 points and added five assists as Virginia won its fourth in a row.
Clark's effort led five Cavaliers in double figures. Not to be overlooked, Armaan Franklin had a very "quiet" 15 points and five rebounds. Franklin was 6-of-9 from the floor, including 2-of-3 from behind the arc.
Back to Clark. With the win, Clark became Virginia's career victories leader as a player with 111. After the game, coach Tony Bennett said there might be the need for an asterisk after the record, out of respect for players like Ty Jerome and others.
Speaking of Jerome, he was in attendance, sitting courtside with Golden State Warriors teammates Seth Curry and Moses Moody.
The Warriors played in Washington Monday, and are in Boston Thursday.
Big start
In Wednesday's contest, UVA built a 40-31 halftime lead that ended on a down-the-lane slam by Reece Beekman that elevated the raucous JPJ crowd to another level.
Tech led only briefly, 21-19, midway through the first half.
UVA did their part to work the crowd into an early frenzy, scoring 11 of the game's first 13 points. The Hokies, as they did numerous times during the game, climbed back in it as UVA went cold from long-distance, missing nine of its next 10 shots, going just over five minutes without a point.
Virginia closed out the first half on a 9-2 run that ended on Beekman's dunk, bringing the crowd out of the seats.
Young impressed with Virginia
Catching up with Tech coach Mike Young after the game, he heaped high praise on UVA and its home court.
"I said this in the press conference, if there's 10 better teams in the country, I don't know who they are," said Young. He added this regarding JPJ, "man, what a home-court advantage they have here. I mean you can feel the electricity, the emotion, it's huge for them." said Young.
Next up
Both Tech and UVA are on the road Saturday. Virginia (15-3, 6-2 ACC) plays at Wake Forest while Virginia Tech (11-7, 1-6 ACC) is at Clemson.