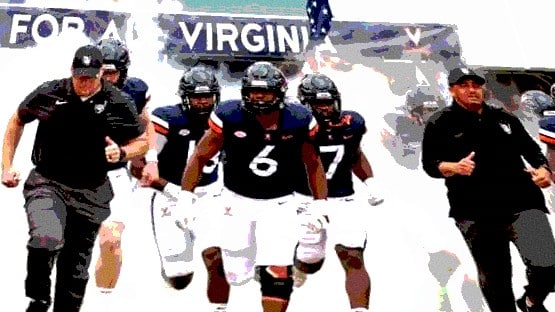 Tennessee led the nation in scoring and total offense a year ago, and coach Josh Heupel likes to push the tempo.
How you can tell that: all that moving the ball and scoring, and the Vols were 130th in FBS, of the 131 teams in FBS, in time of possession in 2022.
"Oh, man, we got the scout team going fast, as fast as we possibly can. Coaches straining and pushing the guys to get lined up. So, you try to emulate it as fast as you can," UVA coach Tony Elliott said as his team prepped for its season opener against the 12th-ranked Volunteers on Saturday at noon ET in Nashville.
The key is getting lined up, "because they do what they do, and they're good at what they do," Elliott said. "You got to get lined up to it and have formation. That's what defensive football is, is formation, recognition in certain situations."
To Elliott, whose experience as a coach is on the offensive side of the ball, the challenge that UT presents isn't so much just the pace as it is, on top of that, "how they spread the field."
"If you watch them, their splits are a little bit unorthodox," Elliott said. "They kind of go against conven6on when you start talking about the spacing. They really, really push the wideouts wide to the sideline, but then what it does is it forces the defense to make a decision. If you're doing that and changing formations, depending on how your defense adjusts, you could be traveling back and forth with some of your secondary guys, which creates a problem in terms of getting lined up."
Tennessee will be breaking in a new QB, sorta, kinda. Joe Milton has started four games in his two seasons in Knoxville, after transferring to UT from Michigan.
The 6'5", 235-pounder was the MVP in Tennessee's 31-14 win over Clemson in the Orange Bowl after taking over for Hendon Hooker, a third-round NFL Draft pick, who missed the last two games of the 2022 season with a knee injury.
"Quarterback, man, he is a stud," Elliott said. "He can run it and throw it. Is a throw-guy first, but, man, when he pulls it down, it's pretty scary."
The other challenge to defenses is that the Vols can run the ball with their running backs. The top three rushers from 2022 are back – Jaylen Wright (875 yards, 6.0 yards/carry, 10 TDs), Jabari Small (734 yards, 4.7 yards/carry, 13 TDs) and Dylan Sampson (397 yards, 6.8 yards/carry, 6 TDs).
"They're physical up front. They can run the football. The backs run hard," Elliott said. "Offensive line-wise, I know they got a little bit of transition with a couple guys. I anticipate that you'll a see very similar group that's physical, can protect the quarterback, but then also create movement in the run game. So, for our defense, we're going to have to be very, very quick after the whistle and get the call and get lined up."
The biggest thing for the Virginia side is going to be just remaining disciplined.
"They kind of break your rules. That's the tough part," Elliott said. "From a defensive perspective, you have rules, spacing on the field, certain landmarks, and now they're outside your landmarks, so all your training is outside the window. Now you have to adjust specifically to the spacing, a lot like preparing for option football, right? So, it goes against the rules. Even though it looks very similar to what you're seeing in college football, the fact that those guys are pushed to the sideline, leverages change, all kind of different things change. Now what it does, especially in the run game, it creates just one-on-one matchups without the support being able to get there, right, because they got to defend the perimeter. So, it's a big challenge."
D news and notes
Bad news at the worst time for the D
Elliott had hoped to have fifth-year edge rusher Chico Bennett Jr. back for the opener, but Bennett, who went down to a freak knee injury in training camp, is a no-go for Saturday.
"He was pushing for this week, and obviously it was a big scare for all of us," said Elliott, referencing the freak injury, which manifest when Bennett was taking a knee after a practice, and unexpectedly couldn't straighten his knee.
"We're like, oh, Lord, what just happened?" Elliott said. "We're very fortunate that it was a minor procedure where they had to remove some bone fragments. So, it's really how quickly can the swelling go down. There was nothing structurally wrong. I was just walking over here with him. He's walking good. He is back running a little bit. So, I'm anticipating next week is realistic for him."
One other injury update on the defensive side
defensive back Antonio Clary will be a game-time decision on Saturday.
Clary, who has been dealing with a high ankle sprain, "is pushing for trying to be ready this week," Elliott said. "I think he would be a guy that would be limited, but if we needed him, we could get some work out of him."