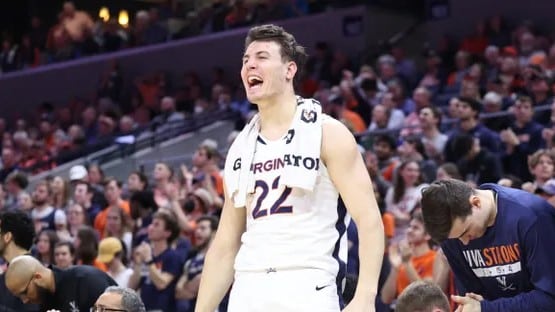 Francisco Caffaro's playing last night brought up a question that has lingered in my mind for years. Why can't UVA develop a big man inside? Both Caffaro and Kadin Shedrick have the physical attributes, why not the skill to match. I have 100 percent confidence in Coach Bennett, but wouldn't an inside game perfectly complement our shooters? I'd love to see just five more offensive rebounds a game. Do talented big men like Armando Bacot (Richmond) shy away from UVA? Is there no one on the UVA staff that can coach a big man? I'd love your thoughts on this.
– Matthew Sposato
A few thoughts:
Tony's offense is designed around guard play. The bigs get occasional feeds into the post, but for the most part, their offense comes on pocket passes after they set screens, lob passes in the zone offense, and pick-and-pops (where Jayden Gardner is lethal).
Offensive rebounding is sacrificed, by and large, to make sure there is proper floor balance to prevent fast breaks by opponents.
All of this being what it is, if I'm a big like an Armando Bacot, and I see the style of play at UVA, and then see what they're doing at UNC, feeding the post like there's no tomorrow, I'm probably deciding to go to UNC, though as it turns out, Bacot hasn't developed at UNC to a degree that he will have any kind of meaningful career in the NBA, because the NBA doesn't value 6'9″ back-to-the-basket guys.
I hear (from my colleague, Scott German) and read on social media and message boards the notion that you suggest here, that there may be an issue in terms of coaching at the heart of the apparent lack of development of big men at UVA. I'd suggest that actually, the bigs are being developed to do what the system asks them to do, which is set screens, score on rolls and pick-and-pops, and then on defense, help on hard hedges on pick-and-rolls, doubling the post, and keeping the big they're guarding off the boards.
Thanks for raising this issue and asking me to try to address it. It's a good topic worth discussing.