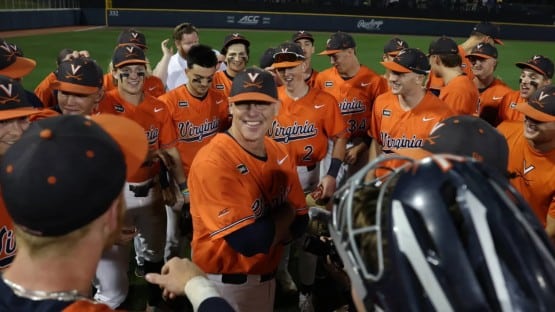 Recruiting, with the advent of the transfer portal, has gotten a lot harder for college coaches across the board, but you can count UVA baseball coach Brian O'Connor as being among the coaches who seem to have mastered the portal.
O'Connor got his entire 2023 weekend starting rotation from the portal – Connelly Early (11-2, 3.35 ERA), Nick Parker (8-0, 3.78 ERA) and Brian Edgington (8-3, 3.64 ERA) – plus outfielder Ethan O'Donnell (.359/.452/.603, 13 HR, 52 RBI, 18 SB).
O'Connor also picked up lefty reliever Angelo Tonas (4-0, 2.25 ERA) to add depth to the back end of the bullpen.
"All those guys, you know, we wouldn't be where we're at without them," O'Connor told reporters after Sunday's 8-3 win over East Carolina that sent Virginia to its second Super Regionals in three years.
All three of the weekend starters earned wins in Virginia's run through last weekend's Charlottesville Regional, putting up a nice statline – 18.1 innings pitched, three earned runs, 12 hits, 19 strikeouts, two walks, one hit batter, 1.47 ERA, 0.82 WHIP – in the process.
Tonas contributed with two-thirds of an inning of scoreless relief to get out of an eighth-inning jam in Sunday's win over ECU, and O'Donnell provided the big hit, a three-run seventh-inning homer that put Virginia on top to stay.
The transfers have plugged gaps – as O'Connor noted, his pitching staff lost 80 percent of its innings pitched from 2022 – but in terms of roster construction, "nothing replaces the development of the high school player," O'Connor said, emphasizing that prep recruiting is "what our program has been built on and will always been be built on."
"That said, in this new age of college athletics, we have a responsibility to the 40 men in our clubhouse to fill some gaps and add in some areas, and that's what we did last summer by adding these two guys," he said Sunday night, pointing to Early and O'Donnell, who were with him on the dais at the postgame presser, "and, and others, seven or eight others, that have really all made an impact."
Each of the newcomers from the portal had to earn their jobs. For instance, with O'Donnell, he had to beat out Tommy Courtney, a grad transfer from Penn, for the starting centerfield spot, and O'Connor also had JMU transfer Travis Reifsnider, who hit 13 homers last season, that he could have plugged in somewhere in the outfield.
The UVA approach, with O'Connor and other coaches on Grounds, "is not to buy players" using NIL as an inducement, O'Connor said, but "to find the players that value what we offer, and that, first and foremost, is opportunity to potentially play, if they earn that. Nothing's guaranteed to them."
"Secondly is to be in a culture and an environment that they aligned with," O'Connor said. "And I know that these two guys that are sitting up here and the others believed that this was the right place for them because they all had a lot of other great options."
The transfer portal "is the way of college athletics now, and if you're going to be successful, you have to be good at it," O'Connor said.
"We knew we needed to go get some guys that had the ability and experience to step in and compete for jobs right away, and you know, we probably wouldn't be where we're at right now without it. But you know, again, it goes back to finding the fit that is going to fit into our clubhouse and what we're looking for to be successful," O'Connor said.