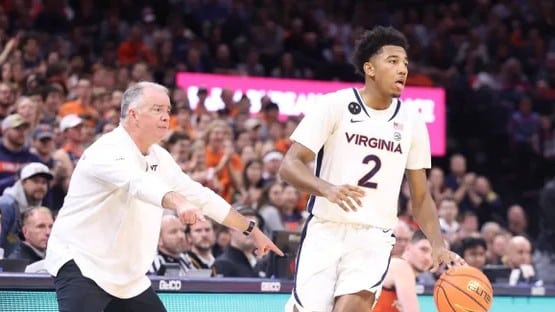 Damn, that Mike Young
I'm going to credit, or blame, depending on the perspective – OK, blame – Virginia Tech coach Mike Young for figuring out how to beat Virginia's small-ball lineup.
It's Young's blueprint that the Cavaliers' last five opponents have used to stifle the UVA offense.
Virginia, in the 74-68 loss in Blacksburg on Feb. 4, shot 40.9 percent from the floor and a modest 6-of-18 from three, and the Hokies contested everything the 'Hoos tried to do to get to the rim, forcing 12 misses on layups and dunks in 27 attempts.
Since that day, the Virginia offense has averaged 0.987 points per possession.
This is over a six-game stretch, mind you – not exactly a small sample size anymore.
What Young did, and what succeeding coaches have done since, is pack the lane, reminiscent of Tony Bennett's Packline, trying to cut down on the dribble-drive ability of Kihei Clark and Reece Beekman, and make Virginia live and die by what its perimeter shooters can do.
It's not like Bennett doesn't have guys who can shoot – Virginia was shooting 37.1 percent from three on the season coming into Wednesday's game at Boston College, ranking in the top 10 percent of teams nationally.
But over the last six games: 30.5 percent.
What the strategy devised by Young and copied by his successors is allow opponents to focus even more on protecting the rim, which is also evident in the numbers over the last six, with Virginia shooting 55.3 percent on shots at the rim – layups and dunks.
For the season: Virginia is shooting 60.6 percent at the rim.
That few percent here and few percent there matter.
The numbers include an 8-of-22 shooting number at the rim in the loss at BC, on top of a 4-of-21 number from three.
Things were so out of whack Wednesday night that Bennett actually tried some mover-blocker sets that he hadn't called since very early in the season, having scrapped his traditional set offense for high-screen, triangle and five-high looks that are designed to free up Clark and Beekman for lane runs.
Bad news there: the mover-blocker action didn't work, either.
Another night of Vander Minus
Ben Vander Plas, the key to the small-ball lineup because of his ability to stretch defenses as a five who can connect from three, had a quiet seven points on 3-of-7 shooting, 1-of-3 from three, in 30 minutes.
He's averaging 6.5 points and 5.2 points per game over his last nine games, and is just 8-of-30 (26.7 percent) from three in that stretch.
This is not going to get it done, and it's probably a good time to compare what he's been doing over that rather robust sample size to what the guy he replaced in the starting lineup, Kadin Shedrick, did back when he was the starter.
Shedrick, before losing his starting slot on Jan. 10, averaged 9.4 points, 4.5 rebounds and 1.9 blocks per game, shooting 69.7 percent from the floor.
He's averaged 9.1 minutes per game since, including getting 11 minutes off the bench on Wednesday, scoring two points, pulling down five rebounds and blocking a shot.
His 0 plus/minus was actually the best on the team, hard as that might be to believe.
The Vander Plas plus/minus: a team-worst -18.
It's obvious what needs to be done. It's time to go back to Shedrick.
It's past time to go back to Shedrick.
Beekman picked the wrong night to be average
If Reece Beekman was even average, that is.
With Boston Celtics president of basketball operations Brad Stevens in attendance, Beekman, who earlier in the season was projecting as a first-round pick in several mock drafts, actually had an awful night.
His statline: six points on 2-of-8 shooting, two rebounds, two steals, two assists, two turnovers, one block in 33 minutes.
Over his last four games, Beekman is averaging 6.0 points and 4.0 assists on 8-of-37 (!!!!) shooting, including 5-of-18 shooting on attempts at the rim.
Beekman's reputation is that he's a great finisher at the rim, but he's shooting just 51.1 percent at the rim this season, down sharply from the 56.6 percent clip that he put up in 2021-2022.
Even with his improved shooting from three – Beekman is shooting a career-best 38.1 percent this season – it's hard to see him improving on the mid- to late-second round draft projections that he's getting now.
Was there anything positive to say about this one?
Jayden Gardner showed up: had 16 points on 6-of-12 shooting, five rebound and two blocked shots in 29 minutes.
It's been an up-and-down season, most recently down, for Gardner, who'd averaged a quiet 8.0 points per game over his last three heading into Wednesday night.
That's it. That's the positive thing to say about this one.
Literally nothing else?
At least we're not Alabama.