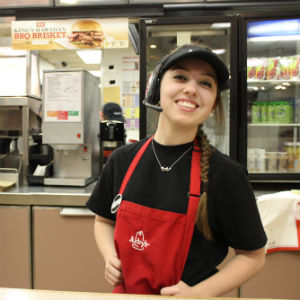 Story by Chelsea Church
The teen job market has been up and down in the past year. Teens usually work at minimum wage jobs such as fast food restaurants, retail, and other part time jobs that do not require much experience. In March 2014, 14.5% of teens were unemployed, and in March 2015, 12.3% of teens were unemployed, according to statista.com. The employment rates for youth are currently increasing and slowly climbing. The summer months are the time where teen employment rates hit their peak.
Julie Goodlick, manager of the Virginia Employment Commission office in Fishersville, helps people get back on their feet by helping them create resumes and find jobs. Not many teens come through her office seeking jobs, mainly because unemployment is what usually drives people to come in. Teens do not need help finding a job because they do not need a job to support a family, but want a job to have some spending money.
The biggest challenge for teens finding jobs, especially teens seeking their first job, is lack of experience. Employers prefer someone who is mature and someone who has some sort of work experience; however, they understand that everyone needs to start somewhere, which is why these part-time jobs are perfect for teens. Teens can acquire these jobs by going online on job search sites or by simply walking into an organization and asking for an application.
The youth of Staunton understand the importance of having a job, gaining experience, and learning responsibility and the value of money. Many students at Robert E. Lee High School, where I am a student, have jobs. These jobs consist of working in restaurants, retail, helping with senior living, etc. There are many great job opportunities in the area for youth, they just need to take initiative and put themselves out there and make themselves stand out to employers.