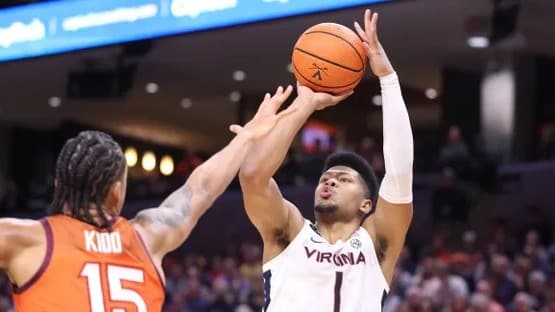 UVA and Virginia Tech have been exploring their options for getting out of the ACC, and they've been in talks with representatives from other conferences – ostensibly, that's either the SEC, Big Ten or SEC, or some combination of the three.
We know this from Whit Babcock, the athletics director at Virginia Tech, confirming the review of options piece in an interview with Hall of Fame sportswriter David Teel this week at the ACC spring meetings, then declining comment on a follow-up question from Teel about whether or not the schools had talked with other conferences, a no comment that spoke volumes.
So, there's the reset of where we are.
What can we glean from the little that we know?
There's a way out of the grant of rights
The sticking point with the schools that have been making rumblings about wanting out of the below-market-value ACC broadcast rights deal with ESPN has been the move by the member schools in 2016 to grant their media rights to the ACC through the end of that TV deal, which runs through 2036.
The 2016 agreement mandates that schools leaving the league would owe an exit fee amounting to three times their annual conference distributions, equating to roughly $120 million.
On top of that, exiting schools would lose the money they would make from broadcasts of home games for the duration of the ESPN deal, a crippling out that would cost upwards of $450 million.
It's widely been assumed that the grants of media rights are airtight, but – and all I'm doing is reading tea leaves here – there's no way school officials, after meeting in small and bigger groups to discuss the legal ramifications, would then meet with representatives from other conferences if there wasn't some feeling that maybe they're not as airtight as they've been made out to be.
And that said, I can't imagine whoever the representatives from the other conferences – be it folks from a main office, or ADs or presidents from member schools – would waste their time without some assurance that the meetings could be leading to something.
I'm not going to try to go into what the various lawyers who have been poring through the grants of rights and the dusty law books on their shelves may have decided is actionable; I have an undergrad degree in American government with a focus in constitutional law, not a juris doctor.
Just piecing what we know together, though, somebody obviously thinks there's something.
The SEC, and ESPN, think there's more money to be made
Something that doesn't make sense to me off the top is, how would the SEC or Big Ten, which will be at 16 schools each next year, benefit by adding two or four or how many ever more schools from the ACC to their league rosters?
Let's examine that, because the rumors have this being where things could be headed.
At first glance, it would seem that there would need to be more money from ESPN (which owns the SEC's broadcast rights) and Fox (which owns the Big Ten's broadcast rights) to make further expansion worth the effort.
And then you'd probably have to factor in the Big 12, which it's fair to presume would need to be in a position to absorb some of the ACC schools in the event of a dissolution of the league.
The Big 12's broadcast deal is with ESPN and Fox.
Here's where things don't add up with that story: note that ESPN, in the here and now, owns the broadcast rights of the SEC and ACC, and has a stake in the Big 12, but if, as is being rumored, the Big Ten would end up with two of the ACC schools – the speculation has the Big Ten interested in UVA and UNC – ESPN would be giving two valuable individual brands over to Fox.
This, to get Clemson and FSU, where there's reportedly mutual interest with the SEC; with NC State, Virginia Tech, Louisville and Miami to the Big 12.
What I need to figure out is why ESPN would give up a below-market-rate deal that gives them the broadcast rights of 15 schools to get Clemson and FSU into the SEC, four other ACC schools into the Big 12, which ESPN has just a stake in, while giving over UVA and UNC to rival Fox, which also then gets a portion of the broadcast rights of four other ACC schools that it doesn't have now.
The only thing that would make any sense would be all eight of the ACC schools that have reportedly been examining their options ending up in the SEC, but then, here's where that also doesn't make sense, off the top: to make that happen, ESPN would have to be willing to give those eight schools a lot more money than they're paying them now under the current ACC deal to entice them to make that leap.
And even if the bean-counters think there is money to be made there, you'd end up with an unwieldly 24-team SEC that could only work logistically if you then broke it up into subgroups – perhaps Texas, Texas A&M, Oklahoma, LSU, Oklahoma, Ole Miss, Mississippi State and Missouri in one group; a second group with Alabama, Auburn, Florida, Florida State, Miami, Georgia, South Carolina and Clemson; then a third with UNC, NC State, Tennessee, Vanderbilt, Kentucky, Louisville, UVA and Virginia Tech.
Those three eight-team subgroups resemble what we used to call "conferences" back in the day.
Now, I have to say that those three eight-team subgroups that resemble conferences, that would be be awesome, in terms of realignment.
We'd get a better version of the old Big 8, a better version of the old SEC, and a better version of the ACC.
ESPN might be looking at this and saying, we're more than happy to let Duke, Wake Forest, Georgia Tech, Pitt, Syracuse, Boston College and Notre Dame find their own way with the Big 12 or Big East or wherever, basically separating the wheat from the chaff, so that we can concentrate the money programs in one huge superconference.
This is the only way any of this works, to me.