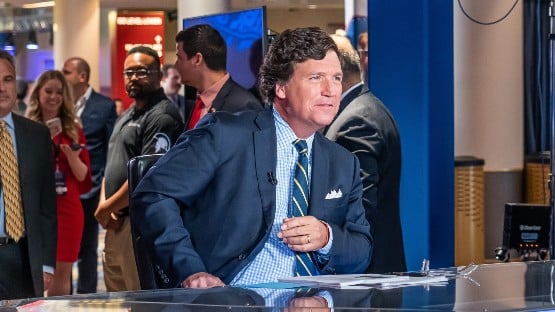 Fox News weenie Tucker Carlson, in between thumbing through boudoir photos of sexy M&M's, proposed on Thursday the bright idea of the U.S. military invading Canada.
The idea came up in an interview with Carlson and emasculated Hillsdale College professor David Azzerad on Carlson's "Fox Nation" show.
"I'm completely in favor of a Bay of Pigs operation to liberate that country," Carlson said. "Why should we stand back and let our biggest trading partner, the country with which we share the longest border — and actually, I'll just say, a great country, I love Canada, I've always loved Canada because of its natural beauty — why should we let it become Cuba?"
Canada is on the verge of becoming Cuba, to Carlson's reasoning, because it has a progressive prime minster, Justin Trudeau.
Our neighbors to the north have long since put a universal healthcare system in place, and have given up on trying to figure out what it is about America that makes us all want to shoot each other.
And now they have to endure hearing a guy that you can't let go down the candy aisle at the grocery store unattended calling for a U.S. military invasion.
"We're spending all this money to liberate Ukraine from the Russians, why are we not sending an armed force north to liberate Canada from Trudeau?" Carlson said.
Another idea: an invasion of the Fox News corporate offices to liberate us from Tucker Carlson.