Local
Augusta County: The ice cream will go on, but dining in is out at Stuarts Draft shop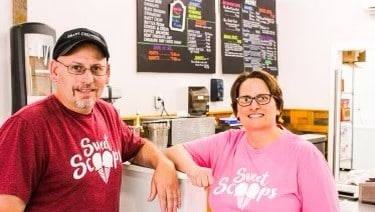 Sweet Scoops Ice Cream Parlor opened in Stuarts Draft in June 2020, amidst the COVID-19 pandemic.
Through minimum wage increases, supply chain challenges and the need to hire a manager, the shop survived.
But all of its staff members are returning to college this semester, so the dining room closed indefinitely yesterday.
"This is what we'll try for now and see how it goes," owner Livonia Fint said.
Sweet Scoops will continue to provide wholesale ice cream to several coffee shops and ice cream shops in the Valley, as well as provide ice cream locally for birthdays, Teacher Appreciation Days and church ice cream socials.
"We're manufacturing quite a bit of ice cream," she said of the shop's success.
According to Fint, Sweet Scoops is busy with wholesale and online orders from February through mid-December, but the dining room is usually only busy May-August.
Ice cream will also continue to be available through online sales in pints, quarts, and 1.5-, 2.5- and 3-gallon tubs. Milk shakes, banana splits and other specialty desserts will not be available although Fint said she will work on other options for online orders.
"But, we're not going out of business," she said.
Eleven flavors, several sorbets and special flavors will continue to be available through the shop's website and a link on Facebook.
"I am just so thankful for the staff and the community for their support," Fint said of the last nearly three years.
She is disappointed to close the dining area because her vision in 2020 included families sitting in the shop enjoying ice cream.
"It is kind of heartbreaking," she said.
While staff will no longer see the regular customers they know by name and by favorite flavor, Sweet Scoops will be able to focus on wholesale and online orders. And Fint is open to the possibility of reopening the dining room at another time.
"We're not going out of business. It's just kind of reimagined."
Fint said she hopes for continued support and for everyone to "enjoy great ice cream."
The shop is also available to provide wholesale ice cream to local restaurants, daycares, schools, coffee shops and other shops. Email [email protected].