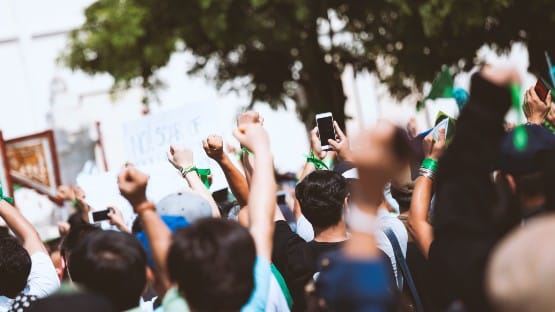 For three days, 30,000 education workers struck the Los Angeles Unified School District (LAUSD), the second-largest in the nation. Bus drivers, special education assistants, custodians, food service workers, and gardeners stayed off the job, joined in solidarity by the 35,000 members of the United Teachers of Los Angeles (UTLA). By Friday, March 24, the workers' union, Service Employees International Union (SEIU) Local 99, had attained a tentative agreement with the district, securing 30 percent wage or more increases for the lowest paid workers.
If approved by the rank and file, the agreement will mean a significant improvement in the lives of many workers, marking a minimum-wage increase for the lowest-paid workers from $15 to $22.52 per hour – and graduated raises for workers at other pay levels.
But the strike has signified much more: calling attention to the deep fault lines of poverty and inequality that rend the city.
Five days before the workers and teachers walked out, the Los Angeles Times editorial board inveighed against the imminent strike, saying that it would have "disastrous consequences on students" at a time when "they're still struggling to overcome pandemic setbacks." A month earlier, the district superintendent, Alberto Carvalho, had tweeted about the anticipated strike, "Circus = a predictable performance with a known outcome, desiring of nothing more than an applause, a coin, and a promise of a next show. Let's do right, for once, without circus, for kids, for community, for decency."
Then things began to shift.
The Times's own reporters began filing stories about the economic hardships facing the workers, many of whom are themselves parents of children who attend LA Unified schools. One reporter interviewed a single mother, a custodian at an LAUSD middle school, as she stopped by with her five-year-old son at one of the many food distribution centers set up during the strike to provide meals for the students. Normally, the district prepares and serves tens of thousands of breakfasts and lunches each day for a student population (420,000 children) that is predominantly low-income. The mother, Irania Barrientos, was on her way to the picket line at the LAUSD headquarters, and she explained to the reporter that even working overtime was "still not enough to make ends meet." The food pickup, she said, was "going to help through the day that we're out there and a few [other] days too."
It quickly became apparent that the baneful combination of low wages and excessive housing costs was driving thousands of workers to desperation. Squeezed between an average yearly salary of $25,000 and a median monthly rent of $1619 ($19,400 per year) for a newly listed one-bedroom apartment in LA County, workers have been forced into overcrowded units or brutally long commutes. About 10 percent have reported being homeless at some point during their work for the district, and about 30 percent have reported being at "high risk" of becoming homeless.
As these facts came to light, so, too, did an appreciation emerge of the crucial role played by these workers in the everyday lives of the students. As a second-grade teacher told me on the first morning of the strike, "we need to invest in the people who invest so much in our children."
With the solidarity of the teachers and the support of parents and students – as well as the mediation of Los Angeles Mayor Karen Bass – the workers achieved significant gains in the agreement reached on March 24. By then Superintendent Carvalho had deleted his tweet about circuses. And Mayor Bass declared that, "the majority of SEIU 99 workers don't just work in our schools. They are LAUSD parents as well. And today for too many hardworking people, working full time is just too hard – to put a roof over their heads and put food on the table."
The workers of SEIU Local 99 demonstrated the power of a strike to gain leverage – and to raise consciousness in the general public. As inequality continues to rise in California and across the nation, these workers showed that you don't need to teach high school civics in order to educate about the corrosive effects of such economic disparity. Strikes, in short, can be a most powerful pedagogy, and with major strike activity up by nearly 50 percent in 2022, you can expect a good deal more of this pedagogy in the coming months – and, perhaps, years.
Andrew Moss, syndicated by PeaceVoice, writes on labor and immigration from Los Angeles. He is an emeritus professor (Nonviolence Studies, English) from the California State University.