It's all about the "sticky stuff" at the World's Fastest Half Mile.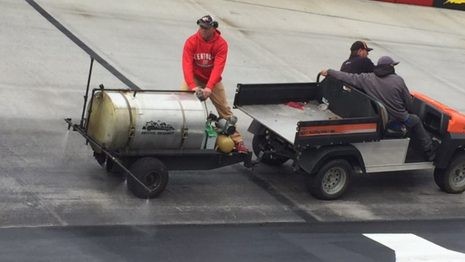 Ever since the introduction of an innovative track prep process one year ago at Bristol Motor Speedway involving a traction compound to the lower part of the concrete oval, a lower grove has been found, creating a new lane for drivers in the tight turns at BMS and raves from the drivers both rookie and veterans.
"It adds an alternative and gives a guy the option to run down (low) if he wants and that's good," said Dale Earnhardt Jr., who will pull double-duty, racing in both the Bass Pro Shops NRA Night Race on Saturday evening and Friday night's Food City 300 XFINITY Series race.
That "Bristol Bite" as it is called, is now being performed at other tracks on the circuit and receiving high marks and praise. Two BMS sister tracks that are configured at a mile or more, Charlotte Motor Speedway and New Hampshire Motor Speedway, have used similar prep processes for different sections of their racing surfaces before recent events and both venues saw positive results.
Since Bristol Motor Speedway officials introduced this innovative track prep process involving the application of a traction compound to the lower groove of its half-mile all-concrete oval, the buzz has generated talk of whether or not it might be used at other tracks in the future but one thing is for sure, the process has proved to be a success.
First used in 2016 at the Bass Pro Shops NRA Night Race and once again during the 2017 Food City 500, the results have been even more dramatic,as many drivers have said the racing was thrilling for them and even more exciting for the fans.
"There were so many competitive passes and so much racing going on over the course of the event," said Jimmie Johnson, who won the Food City 500 in April. "To have ever-evolving track conditions all weekend long, no one could nail the setup and roll in here on past notes. I think those variables really produce better racing for us."
Michigan winner Kyle Larson, who has posted top 10 finishes in both of Bristol's April races, leading 202 laps of the Cup race and 180 of the XFINITY Series event, says he can't wait to get back on the track of the Last Great Colosseum.
"I thought the race was great," said Larson.  "The track changed a lot throughout the race and that was extremely exciting. This is the best track we go to, the most exciting. I love coming here." Larson currently stands third in Monster Energy Cup standings.
Earnhardt Jr., Johnson and Larson will all be competing for victory alongside many more of NASCAR's elite drivers in the Bass Pro Shops NRA Night Race, including defending winner Kevin Harvick, rising stars Chase Elliott, Erik Jones, two-time season winner Ricky Stenhouse Jr., Daniel Suarez, Ryan Blaney, and Austin and Ty Dillon, along with veteran drivers Kyle Busch, Brad Keselowski, Denny Hamlin, Indy winner Kasey Kahne, Matt Kenseth and red-hot Martin Truex Jr., the series points leader.
The green flag falls Friday night on the 25th Anniversary running of the Food City 300 NASCAR Xfinity Series Race to be followed Saturday night's running of the Bass Pro Shops NRA Night Race at Bristol Motor Speedway.
To purchase tickets call 423-BRISTOL or buy them online at www.BRISTOLTIX.com.
By Rod Mullins/Augusta Free Press