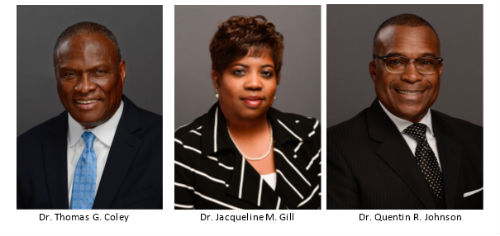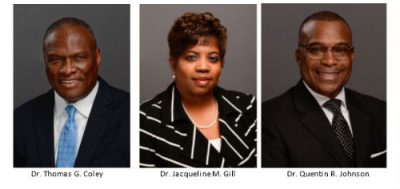 The State Board for Community Colleges has certified three finalists for the position of president at Southside Virginia Community College. The finalists were among 81 applicants from across the nation.
The three finalists, in alphabetical order, are Dr. Thomas G. Coley of Granger, IA; Dr. Jacqueline M. Gill of Lee's Summit, MO; and Dr. Quentin R. Johnson of Mooresville, NC
"I am impressed with breadth and width of talent the presidency of Southside Virginia Community College is attracting," said Glenn DuBois, chancellor of Virginia's Community Colleges. "The college's service region is easily the geographically largest throughout the VCCS. While that poses some unique challenges it also offers some unique opportunities for a dynamic leader to step forward and help us demonstrate what a modern rural community college can be for those who depend on it."
Dr. Thomas G. Coley has worked in higher education for more than 39 years. He began his career as an assistant professor at the University of Maryland at College Park in 1980. Six years later he began working at California State University, Fullerton, serving as the college's government and community liaison. Coley proceeded to hold senior executive positions with the Oregon State System of Higher Education; Cuyahoga Community College in Cleveland, Ohio; and Black Hawk College in Moline, IL before becoming the president of Scott Community College in Scott County, Iowa in 2005. He joined Indiana's Ivy Tech Community College System in 2011 as the chancellor of the Northwest and North Central Region. Following a system restructuring, he became the chancellor of South Bend – Elkhart campus, where he works today. Coley earned a doctorate from the University of Wisconsin, Madison as well as a master's degree and bachelor's degree from Minnesota State University, Moorhead.
Dr. Jacqueline M. Gill has worked in higher education for more than 20 years. She began her career as the director of continuing education for the NE Campus of Tarrant County College in Hurst, Texas. In 2010, she became the college's vice president of Academic Affairs & Community & Industry Education. Gill moved to Kansas City, MO in 2016 where she became the president of Metropolitan Community College. Prior to working in higher education, she worked for seven years as a social worker in the greater Dallas Fort Worth metropolitan area, including two years of recruiting candidates from underserved populations into healthcare career fields for the Dallas Fort Worth Area Health Education Center in Irving, Texas . Gill earned a doctorate, master's degree and bachelor's degree from Texas A&M University, and a separate master's degree from the University of Texas at Arlington.
Dr. Quentin R. Johnson has worked in higher education senior leadership roles for more than 20 years. That includes, beginning in 2004, serving as the president's chief of staff and acting vice president for Student Life and Enrollment Management at the University of Maryland Eastern Shore. In 2011 he became the senior vice president for Enrollment and Student Services at Fairmont State University and Pierpont Community and Technical College in West Virginia. Johnson moved to Guilford Technical Community College in North Carolina in 2012 to become the vice president of Student Support Services, the position he holds today. He also has some Virginia experience, previously serving as the assistant dean for Enrollment Management & Student Services at the UVa School of Nursing. Johnson earned a doctorate from the University of Maryland Eastern Shore; a master's degree from Bowling Green State University; and a bachelor's degree from Defiance College in Defiance, Ohio.
The three finalists seek to succeed Dr. Al Roberts, the college's fifth president, who announced last fall that he was retiring at the end of June, having served as president for five years. The finalists will each visit the college in late March to meet with faculty, staff, students and community members.
SVCC serves one small city and spans ten rural counties across southern Virginia. The college offers 23 degrees at the associate level, a host of shorter-term academic and workforce development programs, opportunities for dually enrolled high school students, adult basic education, and other transitional services for non-traditional students.