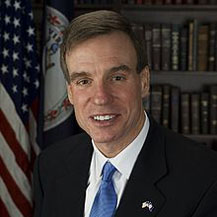 The U.S. Senate today passed Sen. Mark R. Warner's (D-VA) bipartisan proposal to enlist private sector technology companies to assist the U.S. Department of Veterans Affairs (VA) assess and fix problems with the VA scheduling system. Sen. Warner's proposal was included as part of bipartisan V-A reform legislation that passed the Senate today on an overwhelmingly bipartisan vote.  A recent audit of the VA revealed more than 57,000 veterans have waited at least three months for initial appointments, and an additional 64,000 veterans who requested appointments never received them. In addition, the VA inspector general has confirmed that some employees routinely violated VA accountability standards to make it appear that V-A medical facilities were performing better than they actually were.
"I'm pleased that our bipartisan proposal was included as part of this compromise legislation to reform the VA," Sen. Warner said. "One of the things we can do immediately is to evaluate and recommend improvements to the VA's  I-T systems to make sure that every veteran who contacts the VA is able to schedule an appointment in an efficient and timely way. This pro bono private sector help is something that can be completed quickly as we continue to push forward to fix broader, longer range challenges at the VA."
Sen. Warner's proposal to engage with the private sector in designing a quick IT fix for the VA's scheduling backlog was first proposed in a letter to President Obama. Since then, the proposal has generated bipartisan support from  Sens. Mike Johanns (R-NE), Patty Murray (D-WA), Richard Burr (R-NC), Al Franken (D-MN), Marco Rubio (R-FL), Joe Donnelly (D-IN), Saxby Chambliss (R-GA), and Michael Bennet (D-CO). Today's legislative progress occurred at the same time Sen. Warner continues to have conversations about this proposal with top White House officials.
In 2010, Sen. Warner successfully pushed the U.S. Army to accept a similar pro bono IT assessment and correction plan from companies belonging to the nonprofit, nonpartisan Northern Virginia Technology Council to help fix widespread mismanagement and technology challenges in operations at Arlington National Cemetery.