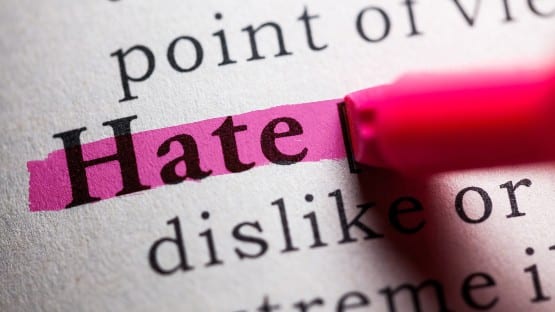 Liberty alum Samantha Ponder – you didn't know that about her, but now that you do, things she says make more sense, right? – is the latest sports personality to come out as anti-LGBTQ.
"It is not hateful to demand fairness in sports for girls," Ponder tweeted last week, defending her public support for former college swimmer Riley Gaines, who has made a name for herself in conservative circles by going after trans athletes in women's sports.
We're literally talking about roughly 50 trans athletes among the 200,000 women competing in NCAA-sanctioned sports, though you wouldn't know that from the attention given to Gaines by the likes of Fox News, Newsmax and Outkick.
From her telling, championed by the likes of Ponder, boys and young men are waking up every day deciding to transition so that they can win swim meets, sprints, 5Ks and whatnot.
Of course this isn't the case, but try telling that to, for example, somebody, like Ponder, with a degree from Liberty, which churns out roughly 20,000 culture-war graduates a year from its diploma mill.
That's not the excuse for Washington Nationals right-hander Trevor Williams, who played college baseball at Arizona State, and recently felt compelled, for whatever reason, to weigh in on the decision by the Los Angeles Dodgers to invite a queer and trans group that calls itself Sisters of Perpetual Indulgence to the team's Pride Night next month.
Williams, calling himself a "devout Catholic," raised issue in a statement posted to Twitter about the group's use of religious imagery to call attention to LGBTQ intolerance.
"To invite and honor a group that makes a blatant and deeply offensive mockery of my religion, and the religion of over 4 million people in Los Angeles (C)ounty alone, undermines the values of respect and inclusivity that should be upheld by any organization," Williams said.
Just as Ponder could have used her ESPN platform to demand "fairness in sports" for all girls, but didn't, Williams could have used his as a MLB pitcher to speak in support of "the values of respect and inclusivity" for everybody, including Catholics and members of the LGBTQ community, but didn't.
Their selective support for "fairness," "respect" and "inclusivity" is telling, indeed.
It almost makes you think that they only want things to be fair and inclusive for certain people, doesn't it?