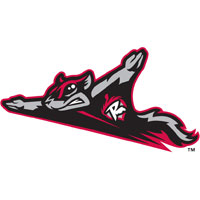 The Richmond Flying Squirrels (46-31) matched the franchise-record with their seventh straight win, 4-2, over the Bowie Baysox (41-37) at The Diamond on Thursday night.  The Squirrels also bettered their franchise-mark for games above .500, climbing to 15 above.
The Baysox did open the scoring against right-hander Austin Fleet in the second inning.  Fleet issued an inning-opening walk to Christian Walker.  He then recorded the first two outs, but Michael Ohlman cracked a two-out double to the wall in right-center field.  Walker came around from first base for a 1-0 lead.
Bowie extended their lead in the third with an additional run against Fleet.  Garabez Rosa led off with a double pulled inside the third-base bag.  He advanced to third on a wild-pitch and scored for a 2-0 lead when Walker singled to center field.
Lefty Tim Berry's second walk of the night, issued to Kelby Tomlinson with one out in the bottom of the third inning, sparked the Richmond offense.  Matt Duffy followed the walk with a single to put runners at the corners.  Mario Lisson then blistered a two-run double through the alley in right-center field.  An out later, Devin Harris dropped an RBI single into left field to give the Squirrels their first lead, 3-2.
Fleet (5-1) worked comfortably in the seventh inning for the win.  He allowed just the two runs on seven hits across 6 2/3 innings, walked two and struck out five.  He departed with a runner aboard and two down in the seventh.  Right-hander Jose Casilla entered and struck out Nolan Reimold to end the threat.  Casilla also handled a scoreless eighth inning.
Berry (4-4) took a hard-luck loss over six innings.  He permitted three earned runs on six hits, walked two and struck out five.
Richmond capped their scoring with a seventh-inning insurance run off right-hander Marcel Prado.  Myles Schroder sparked the uprising with a lead-off double.  Two outs later, Tomlinson laced a single into right field to bring him in.
The five-game series continues with a doubleheader, consisting of two seven-inning ballgames, at The Diamond on Fridaynight.  First pitch of game one is scheduled for 6:05 p.m. as Richmond LHP Adalberto Mejia (4-3, 5.46) will make the start against Bowie RHP Zach Davies (3-4, 4.24).  Richmond RHP Edwin Quirarte (4-2, 2.85) will start game two against Bowie LHP Jake Pettit (4-6, 6.72).   The Flying Squirrels Pregame Warmup begins at 5:35 p.m. on Sports Radio 910 andSportsRadio910.com.