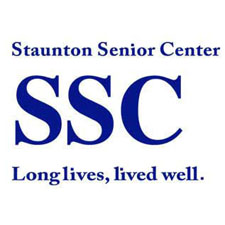 Valley Program for Aging Services Board members and Local Council Chairs representing the SAW Region have met several times to discuss the importance of building awareness of VPAS services among local elected officials. This process was started as a result of meetings held with local officials regarding the jurisdictional requests. Board Chair Jim Bennett and Vice Chair Lorie Smith got the ball rolling for this focus group.
The first action step took place on April 10 as Staunton Senior Center (SSC) member Laura Luziach and SSC Local Council Chair Michael Thompson spoke on behalf of VPAS at the Staunton City Council Public Hearing on the proposed FY15 budget. Both were speaking in support of the budget and thanking the City for their support of VPAS.
Laura is a 93 year old Staunton resident, and exercise is and always has been important to her. She faithfully attends exercise at SSC every day she can, and Laura highlighted the importance of having exercise classes readily available to her, as well as the fact that she never has to be lonely with the Center close by. Laura shared information on the kinds of programs that are offered at SSC and why it's important to her and other members. She thanked the Council for supporting VPAS in their budget.
Michael talked about his experience of starting as a Meals on Wheels volunteer and how that led to him becoming more and more involved with VPAS. He also introduced the other people in attendance that were representing VPAS: VPAS Board member Tim Bruce, SSC Local Council member Shelley Bryant, SSC Program Director Lori Pullin, and SAW Regional Director Janice Gentry. City Council Member Andrea Oakes is also on the SSC Local Council and was recognized. Thanks to everyone for the great support!
More online at www.StauntonSeniorCenter.org.