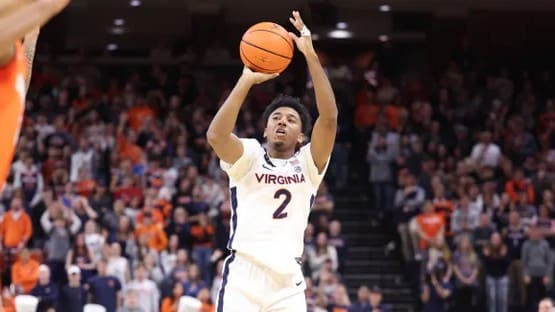 Virginia got out to a 6-0 start this season, with wins over two Top 25 teams, keyed by tweaks to the offense to highlight the skills of junior point guard Reece Beekman.
Beekman suffered an ankle injury in the sixth win, at Michigan, on Nov. 29, and with Beekman ailing, the Cavaliers hit a lull, limping through a 5-3 stretch that saw the offense stagnate.
The emphatic dunk in the final minute of UVA's 65-58 win over North Carolina on Tuesday seems to signal that the healthy Beekman is back.
"I think for sure his health is improved, and that's helped a lot," Virginia coach Tony Bennett told reporters after the win over UNC. "I mean, the ability, that drive, and that was a heady play by Ben (Vander Plas) coming up and slipping the ball screen, we had them a little bit indecisive, like they did us in the first half. And to get down the lane and get that finish at that point was significant."
A reporter noted to Beekman following the Carolina game that the dunk in the final minute was his first in a game since the injury at Michigan.
Beekman, not a look at me guy at all, smiled on the podium at the news.
"I think part of it is the confidence part in myself, just knowing that I have the ability to do that," Beekman said, before explaining how the past few weeks have gone for him, in terms of trying to rehab the ankle injury and a related hamstring injury that dates to the Florida State game on Dec. 3.
"I'm just doing extra work outside of, you know, practice, just to kind of get the strength and the speed back as it was before," Beekman said.
Between that, what he does normally on basketball skill work, practice, time for studying for final exams last month, it's a lot, to be sure.
He later allowed that he's "pretty close" to 100 percent, which is good news for Virginia fans.
Beekman averaged 11.8 points and 5.2 assists in Virginia's first six games, and over his last three, as he's been getting his feet back under him, he's averaged 12.7 points and 5.0 assists, scoring in double figures in each of the three.
From a pure talent perspective, Beekman has looked like a guy with NBA potential since he first stepped on the court as a freshman in 2020, and now he's playing like it, and the NBA draftniks are taking notice, listing Beekman as a late first-round pick in their 2023 mock drafts.
"I love seeing young men find their way and emerge and become more assertive and just trust their teammates, trust their own game, and play with a sense of reckless abandon, so to speak, with soundness," Bennett said. "I don't know if those go together, but you want to be sort of fearless and stay within your game, that sort of idea. And I'm starting to see that, you know, just the evolution of him, and he's got a lot of experience now under his belt being an upperclassman, and we need that from him."