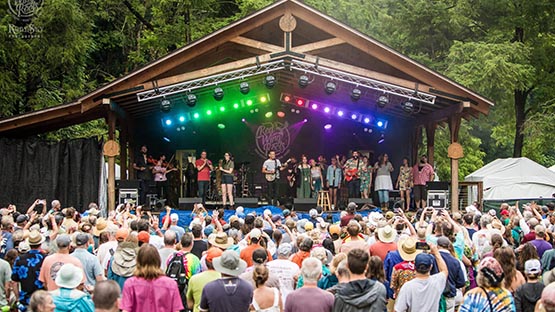 The Red Wing Roots Music Festival has announced the full line up of artists scheduled to perform at the 10th annual music festival, taking place June 23-25, at Natural Chimneys Park in Mount Solon.
Along with festival hosts and local favorites, The Steel Wheels, festival headliners include Old Crow Medicine Show, Robert Randolph Band, Watchhouse, Sierra Ferrell, and 2023 GRAMMY performer and award-winner of the best folk album, Madison Cunningham.
More than 50 artists are scheduled to appear across five stages for Red Wing X, including The Suffers, Marc Broussard, The Lil Smokies and John Craigie.
Since its beginning in 2013, Red Wing has featured great music in the great outdoors. Annually, the musical lineup offers festival patrons an opportunity to explore new music through a variety of experiences.
"Red Wing fosters music exploration. From our youth academy to the diversity we seek in our lineup – promoting both award-winning artists, as well as new and emerging musicians – Red Wing hopes to cultivate new musical exploration for our patrons each year," said managing partner and co-founder Jeremiah Jenkins. "We are incredibly grateful to Natural Chimney Park and Augusta County, as well as our extraordinary fans, for all the ways they have helped to support and shape the Red Wing experience over the last decade. We look forward to doing this with you all for many more years to come."
Red Wing will feature:
Food vendors, including options for craft beer, cider and wine in the Blue Mountain Beer Gardens
Outdoor activities include organized bike rides and group runs
Morning yoga sessions beneath the rock towers at Natural Chimneys Park
Shady Grove, the festival's kid zone, features a climbing wall, organized and informal games, slack lines
Mist tent for cooling down during the hot summer days
On-site camping has long been a popular aspect of the festival and each year Red Wing continues to improve and expand the camping options.
Three-day festival tickets are on sale now. Single day tickets will be made available for purchase in the spring.
For tickets and more information, visit www.redwingroots.com.