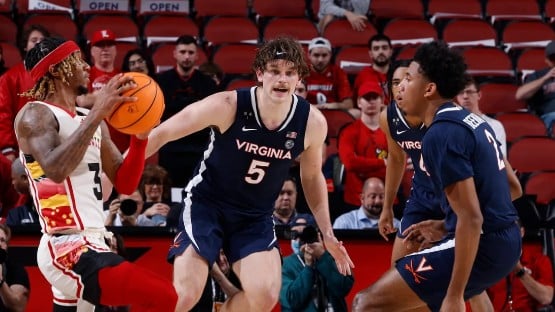 Back when Virginia and Louisville hooked up on Feb. 15, the Cardinals were playing their best basketball of the season, relatively speaking, for a team that had won three games at the time.
Louisville, after the narrow 61-58 loss, went on to post a big upset its next time out, beating Clemson by 10 at home on Feb. 18.
It's been all downhill from there, as even the frisbee dog at Louisville's home finale on Tuesday seemed to recognize.
— Alex Linton (@AlexLinton_) March 1, 2023
Virginia (22-6, 14-5 ACC) can clinch the #2 seed in next week's ACC Tournament with a win on Saturday (2 p.m. ET, ESPN2).
More important than a #2 ACC Tournament seed, what Virginia needs is to build some momentum, in the form of a good performance, coming off a nice effort on both ends in the 64-57 win over Clemson on Tuesday.
Still unresolved is what the Cavaliers will do to fill the big hole at the five spot. Ben Vander Plas has been getting the starts at center since mid-January, but coach Tony Bennett acknowledged after the game on Tuesday what a lot of folks had already known, that Vander Plas has been dealing with a back injury that has limited his effectiveness.
Even with Vander Plas ailing, Bennett has not gone back to Kadin Shedrick, who started 14 games at center, but didn't even get off the bench in Tuesday's win.
Shedrick has averaged just 8.2 minutes a game since losing the starting job after the 65-58 win over North Carolina on Jan. 10.
Ryan Dunn put in some good minutes in the post on Tuesday, scoring 10 points and grabbing five rebounds in 16 minutes off the bench in the win, and the freshman could be in line to get more floor time going forward as Vander Plas tries to play through his injury.
Projections
ESPN BPI: Virginia +24.4, 98.5% win probability
EvanMiya: Virginia 75-54, 98.5% win probability
KenPom: Virginia 74-55, 96% win probability
BartTorvik: Virginia 73-55, 96% win probability