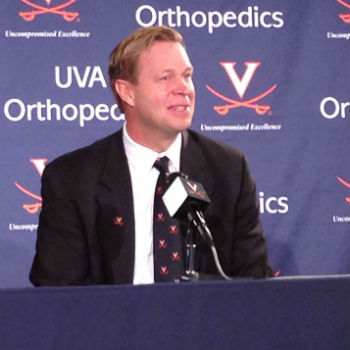 UVA football coach Bronco Mendenhall talks with reporters on the ACC spring football media teleconference.
BRONCO MENDENHALL: Good to be with you today. I'm very excited and lucky to be at the University of Virginia. I've really enjoyed getting to know our players through the off-season program and through spring practice. I'm encouraged by what I've seen. Our players are working hard, they're very diligent, and they're optimistic about what our team has in store for the 2016 season as well as I and the 12 coaches and staff members that followed me from BYU.
So a lot has been accomplished in a short amount of time with more work to do, and we look forward to taking it on. So I'll be glad to take questions from there.
Q. What kind of relationship did you have with Ruffin McNeill before you hired him? And what does he add to your staff, especially in the way of recruiting in that area?
BRONCO MENDENHALL: Coach McNeill and I had a professional relationship dating back to five or six years ago when Coach Ruff had an interest in what we were doing defensively at BYU and sent his defensive staff out to study with us, and then asked for our coaching staff to come out and visit with them on another date. So we had known each other through, again, that professional exchange.
Ruff is best friends with my offensive coordinator Robert Anae, so I've heard Ruff stories for a long, long time through coach Anae, and then we played BCU this year in Provo, and Coach Ruff and I had a great conversation on the 50-yard line and there was an instant coach. I was so impressed with not only him as a person but the way his team and the way he had coached his team in the past six years at ECU, and well, I was very surprised and I think everyone was that he was out of a job after this year. If it wasn't the next day or the same day, one of those two is when I called him and asked him to join us. It was a great move for us.
Head coach is a leadership position. Most leadership positions are lonely and you have to make very difficult positions. It's great to have an assistant head coach, which Ruff is for me, that has tremendous experience and knowledge and wisdom and just to be a sounding board.
So that's one area that Coach Ruff is really strong in. The second is he's a very, very good defensive mind, and the third is he's an exceptional person and recruiter, and so Ruff will have the 7-5-7 area for us, and we're looking for a very specific type of player to fit at the University of Virginia. And Ruff has a great idea, number one about who that is, and number two, how to go about acquiring that talent. He's adding a lot of value already to our team.
Q. We had heard about burning the spring game, and I'm curious with what we're hearing about a 15th practice. Did the guys not do what they needed to earn it or did you just need this workout? What was behind that decision?
BRONCO MENDENHALL: It's more of the second. The team has done everything that I've asked them to do, and they've done it at a really high level where we currently are in measuring our program and the way I expressed it to the team is our program will move farther ahead and faster with one more workday, so that's what we plan to do.
They certainly qualified for a game, but then in presenting to them now here's how we could really benefit, and I think this day would help us if we did a different format than a spring game.
Q. They've bought into it?
BRONCO MENDENHALL: Yeah, not only myself, but the players realized another day at work is what's going to help us most.
Q. I was going to say they've bought into everything you've asked of them. Did they understand and embrace this decision? Was there any resistance?
BRONCO MENDENHALL: No, there's been no resistance really from the moment I've arrived until now. I think that's probably the biggest surprise of this transition for me is I was expecting more resistance and I was expecting more attrition as we took over the program and changed culture and work capacity and different expectations. I've been pleasantly surprised, really, at every turn with some key decisions that I've made regarding our team that the team just basically accepts that as this will help us. We're all behind it, and they go, which is really refreshing.
Q. Bronco, could you talk about Donte Wilkins and how he fits into your system?
BRONCO MENDENHALL: Well, my history as a football coach on the defensive side has really been pressure oriented, and a lot of times it's come from different fronts. I my grated and settled to a 3-4 core alignment.
When you have a 3-4 defense, the nose tackle is, if not the Most Valuable Player, certainly one of the most valuable players on your entire team. Donte just happened to be here, hungry for an opportunity, and physically and mentally ready for that opportunity to match our system.
He's had not just a solid spring, but an exceptional spring in terms of what he's doing not only on the field but in terms of leadership. But I would love to have five, six more defensive linemen just like him. He's really kind of setting the standard for what we'd be looking for in the future at that spot.
Q. Along those same lines, with the defensive line, you talked a little last week about the depth behind Donte at nose guard. What is your depth like at defensive end, I guess, beyond Andrew? And what seems to be your first teamer there at this point?
BRONCO MENDENHALL: Yeah, we're fairly thin. A player that we moved from linebacker from a year ago, Mark Hall is starting to emerge. It took him some time to qualify for spring practice with the tempo runs and now that he has we've seen flashes from him. Steven Wright is a younger player that I've seen some things that I've really liked. And Andre Miles-Redmond, those three players I would say if I were listing right now the next group in and the defensive line and defensive end spot, that's who it would be.
Q. Correct me if I'm wrong, but you guys did I think finally scrimmage a little bit last Saturday. How did that go? I think that was the first time that you guys had taken that approach. How does that go?
BRONCO MENDENHALL: It went well. We really didn't make a giant production out of it. In fact, I didn't tell the team that we were going to the stadium. I didn't tell them we were going to be practicing live. I basically presented it simply as another workday.
There just happened to be buses here, and we went to the stadium and I made some periods live. I thought that would give me my best chance to see when asked, rather than prepared at a really high level for a scrimmage and a production it was who can play football and who can't? Who can turn it on and who can turn it off at anytime. So that was the reference point. Which a lot of that led to the thought of doing something similar again for this Saturday.
Q. To take a look, and I know you said the team responded positively and you expected more attrition that you didn't end up seeing, as far as implementing your plan and some of the specifics that you're trying to do with this team moving forward to a new era, how do you feel the plan is going, and at what position is it at at this point going into the summer?
BRONCO MENDENHALL: Really hard to gauge in terms of what position. I'm sure hindsight we'll be more clear with that. We have more scheme installed than I expected to have at this point. I would say that we're deeper into practice, and our insertion isn't what I expected it to be.
We're probably deeper into developing our culture than I expected to be at this point. So I can't measure it against a final product in relation to the ACC. But what I can measure it against in taking over a program, having done that once before and from what I thought and where we might be after 13, 14 or 15 days, I would say that we're ahead of where that initial guess was on my part.
Q. I know you spoke on Ruffin and bringing him to your staff and how important it is to have a former head coach. But you not being the only one seeing it happen across, not just ACC but in a bunch of conferences, including in the Power Five. What you can say about bringing in a former head coach and having that type of leadership on the staff across the board, not just with your Virginia Cavaliers, but it's happening a lot more now.
BRONCO MENDENHALL: I think talent acquisition is one of the most important things in all of business and all of sport, and really just in all of life. Surrounding yourself with really good people, surrounding yourself with greatness is really important to a team's culture, a family's culture, a business's culture.
I love being around really qualified people, fiercely competent, and I love being around great people that care about those they're working with. I also really like to work with those that like each other. I won't work with staff members that simply don't get along, don't like each other and don't really love to show up to work every day in a family environment, and Ruff does a great job facilitating that as do the coaches that I've brought with me.