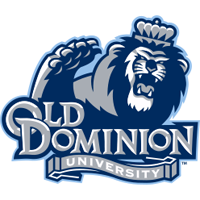 ODU football coach Bobby Wilder talks with reporters on Monday. The Monarchs travel to NC State to play on Saturday.
Good Afternoon everybody! Good afternoon to all our twelfth monarchs, out there in Monarch Nation. Coming off a 41-28 win versus Hampton on Saturday, which puts our record at 1-0. Which was the ultimate goal, to get the win. We wanted to make sure we got that done. In terms of the game overall this was a poor performance by everybody involved with our program; myself, the coaches and players, everybody knew it.  After the game when we were in the locker room I actually had to pick them up and remind them that they won the football game, but it was kind of a somber group because they knew that that was not a good performance overall by our team in any of the three phases, specials teams, defense, or offense.
The good news is, as I mentioned that we got the win, and we also played really hard. After watching all 191 snapsyesterday and reviewing those thoroughly, I felt like our guys competed, I felt like they played really hard. We were able to get 27 first year players their first snaps in a college football game. I sometimes have to remind myself because I've been coaching for a long time that they are still kids. I had a conversation yesterday with a freshman who will remain unnamed. I said "what was your favorite part of the game yesterday?" and I'm thinking he's going to tell me a certain play that was exciting to him, and he said, "Oh, that's easy coach, running out of the tunnel." So they are still kids and they are still trying to figure all this out but there are definitely some areas that we need to improve. Special teams overall was very poor on Saturday. We only had one punt situation and one of our defensive players didn't get out there in time, we rushed it, and it was a poor punt. It was a 25 yard punt and our only punt we had. Kickoff team started off with three really good kickoffs and then we gave up three returns that were about between the 40 and 50-yard line, which is not acceptable. Kickoff return we didn't field a popover. We saw it coming; they moved the ball from where they normally kick out it over to their right hash. We could see that it was coming and we had two guys go up and block instead of just waving their hand and fair catching it. That was critical at that point in the game because that could have cut it to a one score game at that time. So a lot of work to do on special teams we've got a lot of new faces that got their first time, so some critical areas we will work on this week.
Defensively it was really an up and down performance throughout the game by our defense. I'm very excited about the four turnovers. We had a phenomenal interception, a big time strip on the quarterback. We set a school record with sacks (tied), we had six sacks in that game Saturday and plenty of other opportunities, which tells me we are improving in the area of pass rush, which we didn't have last year. Some of these younger guys are doing a better job rushing the quarterback. Particularly good to see Poncho Barnwell playing in his first college football game had two sacks, and some other pressure. So we feel like we've got somebody who can develop into a good edge pass rusher. Poncho is very excited with how he played. Defensively we only allowed nine yards rushing on 26 carries. Now obviously that includes the sacks but overall I felt we were very good against the run. The disappointment was allowing their quarterback, who I thought played very well, to go 32 for 46 for 407 yards passing. We had too many missed assignments in pass coverage; we had breakdowns in pass coverage, guys not being in the area of the field that they were supposed to be in, our zone coverage concepts were not getting a check based on a motion or movement. Those are things we've got to work to clean up this week. We played 25 players on defense, 17 of those players were either first or second year guy. That's a lot of inexperienced players that were playing with, but we've got to continue to work with them, continue to get better. I feel like we've got some talented kids on defense, and we've got to continue to improve.
Offensively, we played 21 guys in this game and 16 of those guys were either first or second year players, and the youth showed. You could see the youth on offense Saturday, particularly in the offensive line where we've got some young guys, first time guys that are getting out there to play. But when you score 41 points and you have 469 yards overall, we had a pretty good balance. We had about 190 yards rushing and 280 yards passing. That's solid. We only had 67 yards in the fourth quarter so we were well on our way to a 600 yard game, and that's when our breakdown started, towards the end of the third early in the fourth. What I shared with the offense that I was most disappointed in the overall performance is that we were up 41-21 our defense gets a turnover, we've got an opportunity right there to put the game away and we get three straight penalties that puts us back 30 yards, then we throw an interception on a deep ball. Defense stops them again, forces a bad punt and on fourth and two we throw an interception down inside the 10-yard line. So we had opportunities to take that game and make it a 55- 21 game early in the fourth, and then we got a chance to just clear the bench and get everybody some good quality work, but we didn't do that. We didn't finish it the way we needed to. We need to clean up the operation with the snap. For whatever reason Saturday, Josh was having a hard time with the ball getting back. We had 10 snaps that were high, where Taylor had to reach up high and that hurts the operation on some on the zone read concepts and what he's trying to do. So we'll focus on that. The two interceptions were really the two big negatives that we had overall.
Speaking to this week's opponent, North Carolina State. They're 1-0, coming off a 24-23 win against Georgia Southern at home. In a game that Georgia Southern really had the game won. They were up 20-10, they had the ball first and goal on the one and they fumbled going in. They could have made it a 27-10 game with 10 minutes to go. But credit North Carolina State, they came back, won that game late. I think they found their quarterback. Last year they were really struggling at that position throughout the year. They played three different players last year, and Jacoby Brissett the transfer from Florida, was a highly recruited player out of high school. He played well in the game he was 28-for-40 for 291 yards, threw three touchdowns. They're solid in the running game. They do a lot in the running game, a lot of motion, a lot of movement. They run the wildcat formation with a couple of their running backs, where they will split Brissett out wide and run the ball, and they're really big upfront. They're huge in the offensive line, as big as an offensive line as we've seen. Along with a 270-pound tight end, so it's going to make it a challenge for us upfront. Defensively they're much improved over last year. They look bigger, faster, and stronger.  I think Coach Doeren did the same thing we did here last year. He played a lot of the new players that they brought in. They were really young last year, they've got some experience, but when you look at their two deep it's primarily sophomore and freshman on both sides of the ball that are playing. They have 20 different guys on the tackle chart defensively that had tackles in this game. So they're playing a lot of young players and you see that within their staff being in their second year.  This will be a major challenge for our team. Were going to have to have a really good week of practice and prepare, but I love the kids approach. From Saturday after the game and how they responded yesterday in here. They all came in with a great attitude wanting to learn. SO I think will have a real good week of practice and hopefully go down and compete well in this game.
What's the most important thing you took from Saturday's game moving forward?
Number one thing is getting the win. Number two is to get all those 27 first year players experience. That's critical. There's no scrimmages in preseason like basketball, they get some scrimmages and get some guys in there. Our guys go out in the first game playing. So to get those 27 ne guys experience, a lot of positives came out of those new guys. I mentioned Poncho Barnwell, but there's a lot of freshman or first year guys that I could talk about Saturday that got experience. So that's really the most critical thing that came from that game was getting that experience. The other thing that really stood out to me Saturday is if you look at Taylors statistics was 29 for 40 280 yards he was 72-73 percent completion. He's trying to figure out some of these new recievers. He's got Zach Pascal who is a veteran guy he can get the ball to. He's got Antonio Vaughan but a lot of the other guys are new. We got some routes that weren't run at the proper depth; the timing was off a little bit. So that's going to take a little bit, it going to take a little but for Taylor to get in sync. But then you look, like I said he was 29 for 40 at the end of the game. So it will be more critical this week particularly with timing of the routes because they're a solid defense.
11 remaining games against FBS schools, are you ready?
I don't know if we're quite ready but it's on the schedule but we've got to go with it. I know they're excited. The players are really excited about this moving forward. When you come out of a game like playing against Hampton, and I told Coach Maynor this after the game, I congratulated him. I thought his kids played hard and competed, but we're expected to win that game by a big margin. That's the expectation when you go into it. I don't know what we were favored by, but I'm sure it was a lot. So to come out of it and you don't win by a big margin then everybody is looking and going what's wrong. Like I said to the kids the most critical thing is getting the win. But now we're able to look at it after the win and see all the mistakes we had, there were plenty of them, and get a chance to grow and learn from them. So I feel like we'll be much improved this week going down to NC State.
Last time you went down to North Carolina it didn't turn out so well, is that something that anybody thinks about going into this game?
Not at all. That one has been flushed out of it. It's a new slate, this is a different team. We've got a completely different team so I'm not going to bring it up. I'm not going to talk about it, just try to get them to focus on North Carolina State. What their strengths are, what their weaknesses are, and what we need to do to win a football game. That'll be the most critical thing for us this week. Like I mentioned, there are a bunch of kids who weren't here, a bunch of kids who are brand new. They don't know one game from the other last year, they just know what's in front of us.
When you look back at the tape from Saturday's gave I know you said you were disappointed with the defense, was it just execution or something schematically that either you did or Hampton did that gave you guys problems?
They did a really nice job with their game plan. I thought Coach Maynor had a really good plan. He had a nice mix between his play action pass, his drop back, his three step. They were very good at screens, they executed screens very well. They caught us in some blitzes. That 75-yard touchdown they caught us in a blitz and they executed perfectly on that. They did a very nice job with their gameplan and how they executed it. Our pass lanes at times, even though we had the success we had, were poor. Our ends were far too much up the field and allowing the quarterback to step up and get out of the pocket and break contain. We had issues at linebacker not dropping in the pass lanes. There are times when they ran a pass play and our inside linebackers were up waiting for the quarterback to scramble. They're not dropping into their hook or curl zone where they're supposed to be. That puts incredible pressure on the safety. Some of those balls you saw caught over the middle are in areas where our linebackers are supposed to be. That hurt us that put us in a really bad situation on a number of plays. I can think right now of a couple third and longs they had where our linebackers were supposed to be under the routes, and they're not. So it was a combination of they did a good job, they executed, they caught the ball well the quarterback threw the ball well and our guys weren't in the positions they're supposed to be. We have to get that fixed this week.
Are you confident that you have the right players and have the personnel to be able to do what you want defensively?
I feel like we do. I feel like we've got that, particularly with the depth we have this year. One of my biggest concerns is the linebacker position, where we don't have a lot of depth. That is a concern right now. I was talking to our defensive staff this morning and we've got to look at more nickel, possibly even dime personnel packages right now. Martez Simpson was scheduled to start, he was out for the game with an injury. I think he'll be back this week. Isaiah Worthy played, a true freshman linebacker, played very well. I was really pleased with Isaiah, he going to be a very good football player for us. Some of these guys are going to play a lot, particularly the new players. We need Isaiah to play well, we need Martel to come back and play because that's an area right now where we don't have a lot of depth.
You said last year you were committed to playing the younger players, is it the same philosophy this season?
I feel like each year we're recruiting better players. If you look back at last year those 22 scholarship players we signed in that class the second ranked class of Conference USA, those guys are talented kids. I feel like after watching them for a month they can all play, they're all good football players and we played a lot of them Saturday night. We've already made the decision as a coaching staff that if we played them Saturday night we're going to stick with them. We're going to play those guys. So there's going to be sometimes where's its not going to look as good as it needs to. We're still trying to build this for future. Obviously we want to win right now, but with this move and transition we've also got to keep an eye on the future and try to build it. With 105 players on the roster and 89 back next year, that we should be at the point next year where we won't have to play all these freshman.
How much does the attrition whether injuries or kids that aren't here anymore, how much do you think that affects how effective you are on special teams?
It has a major effect because majority of the players that are on special teams other than the punt/ kickoff team. We had new kids out there on the kickoff return team who didn't field the ball. So there's inexperience on the field.