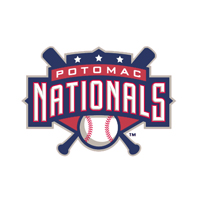 The Potomac Nationals (33-27, 17-11) took game two of a three game series against the Wilmington Blue Rocks (29-31, 13-16) at Pfitzner Stadium on Friday night with a 6-1 win. P-Nats Starter RHP John Simms (W, 1-3) dazzled in seven innings with 14 strikeouts.
Simms' 14 K's is a Potomac season high for any pitcher. He struck out the side in the fourth and seventh innings. Ten of the 14 punch-outs came on swinging strikes.
As for the Nationals offense, a four-run third inning off Blue Rocks' starter LHP Sean Manaea (L, 2-5) was all they would need to capture the win. LF Randolph Oduber started the rally when a sharp grounder to third base was booted by 3B Hunter Dozier. After a SS Stephen Perez walk, two tandem stole third base and second base respectively. 2B Tony Renda then stepped up with an opposite field single to plate both runners. Immediately following Renda's hit, DH Oscar Tejeda pounded a fastball to left field for his ninth home run of the season.
Potomac tacked on two more in the sixth off of reliever RHP Aroni Nina. CF Will Piwnica-Worms scored from third on Nina's failed pickoff attempt at first base. 1B Justin Miller advanced to third on the play and scored on an Oduber sacrifice fly.
Wilmington's lone run came in the third inning when RF Daniel Rockett singled in 2B Jack Lopez. Those would be the only two hits Simms would allow in the game.
RHP Ian Dickson closed the game out with two scoreless innings. The P-Nats pitchers faced just 29 Wilmington batters on Saturday.
The Potomac Nationals Baseball Network, which is accessible at www.potomacnationals.com, will broadcast the final game of a three game series against Wilmington on Sunday, June 8th. Broadcast coverage will begin with the P-Nats Leadoff Show at 12:50pm in preparation for the 1:05pm first pitch. LHP Matthew Spann (2-0, 2.08) will start for the Nationals. He will face RHP Glen Sparkman (2-1, 1.54) for the Blue Rocks. The P-Nats will host a Family Fun Day on Sunday where kids eat free. The Nationals will also be wearing jerseys to raise awareness for autism.