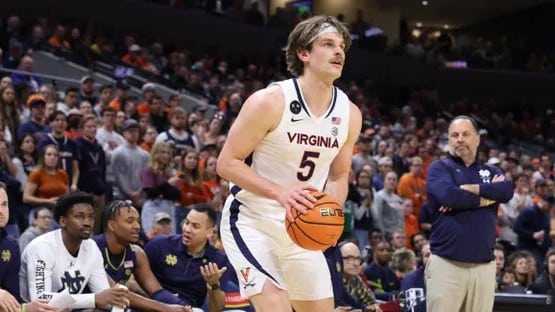 The offense is regressing, and there's no obvious fix
Tony Bennett is obviously set on the starting lineup with Ben Vander Plas at the five spot because he thinks it gives him more offense.
It's not giving him more offense anymore, and that's been the case for about three weeks now.
The Final Four is in Houston this year, right?
Houston, we've got a problem.
More like, Houston, if this doesn't get fixed, we're not going to be coming.
In Saturday's 57-55 win over Notre Dame, ranked 289th nationally in adjusted defensive efficiency, per KenPom.com, Virginia shot 36.5 percent from the field, 29.2 percent from three – with 24 of the 52 shot attempts being threes – and scored 0.950 points per possession.
Over Virginia's last six games, the offense is averaging 1.035 points per possession.
Virginia has ranked as high as fourth in the country in adjusted offensive efficiency this season.
As of right now, it's 46th.
This isn't going to get it done next month, obviously.
Vander Plas, who worked his way into the starting lineup after a big second half in the win over North Carolina last month, is averaging just 6.5 points per game in his last eight, shooting 39.2 percent from the field and 25.9 percent from three over that stretch.
Vander Plas had eight points (3-of-8 FG, 2-of-6 3FG) and four rebounds in 29 minutes on Saturday, with a team-low plus/minus rating of -9, his third negative plus/minus in the past eight.
Again, that's just not going to cut it.
The guy he replaced in the starting lineup, Kadin Shedrick, didn't score in Saturday's win, didn't shoot the ball, had three rebounds, a steal and three fouls in 10 minutes.
Before losing the starting job, Shedrick was among the league leaders in the ACC in several defensive categories, and was averaging 8.9 points per game on 68.1 percent shooting.
In the 10 games since, he's averaging 1.9 points in 7.9 minutes per game.
Most of the productivity came in the 63-50 win over NC State last week, in which he had 10 points and six boards in 26 minutes off the bench.
I'm not sure that going back to Shedrick is the solution, but too many games in a row of Vander Plas being Vander Minus has me thinking right now that he's not the answer, either.
Three levels of awful
Virginia, of late, had been getting a lot of looks at the rim, averaging 25.5 shot attempts at the rim (layups or dunks) in the last four games, connecting on 60.8 percent of those shots (15.5 makes per game).
On Saturday, the 'Hoos got just 15 shots at the rim, and just seven makes.
It wasn't necessarily the case that the 24 threes were a reflection of Virginia settling for long jumpers. From the eye test perspective, there were a lot of good looks on those 24, but the good looks, by and large, just weren't falling.
Armaan Franklin, a 40.5 percent shooter from three coming in, was 2-of-7. A couple of those were end-of-shot-clock looks that shouldn't necessarily count against him.
Isaac McKneely, 43.0 percent for the season, and 52.4 percent from long-range over his last 11 coming in, was 0-of-3, all in the first half, all on open looks, and he let the misses scare him off from putting up anything from behind the arc in the second half.
Virginia, coming in, ranked 30th nationally, per Sports-Reference.com, in three-point shooting, connecting on 37.6 percent of its shots from long-range.
The shooting on two-point jumpers in Saturday's win, 5-of-13, 38.5 percent, was actually a tick above the season mark (35.0 percent).
That 35.0 percent mark on two-point jumpers ranks 276th nationally, according to Hoop-Math.
The best guy on two-point jumpers on the season is Jayden Gardner, who is hitting a modest 40.5 percent of his jumpers this season.
Gardner was 3-of-6 on two-point jumpers in Saturday's win.
What's wrong?
This offense needs to get dribble penetration to get the guards to the rim for layups and for kickouts to shooters who then make the open threes.
When opponents can cheat off the shooters, particularly Vander Plas, who is 4-of-14 from three the past two games, they can focus on making it harder for Kihei Clark and Reece Beekman to do what they do in the lane and at the rim.
Clark and Beekman were a combined 3-of-6 at the rim on Saturday; after going 2-of-6 at the rim in the 61-58 win over Louisville on Wednesday.
You're going to see teams continue to cheat on Clark and Beekman in the lane and basically dare Vander Plas to shoot the ball unless he can start to consistently make them pay.
Until then, Virginia is basically playing 4-on-5 on the offensive end.
Something positive: The defense has been improving
Saturday's defensive effort – holding Notre Dame to 39.2 percent shooting, including 7-of-26 shooting from the three-point line – has Virginia up to the #1 spot in adjusted defensive efficiency in ACC games, according to KenPom.com.
UVA is now allowing 0.971 points per possession in ACC play, a smidge better than Clemson (0.973 PPP).
No one else is under a point per possession.
What I'm saying here is, that Virginia-Clemson game in JPJ in 10 days might be, first one to 50 wins.
The other positive: With an asterisk
The 'Hoos shot 12-of-16 at the free-throw line in the win, which is not great, but better, but then, here's the asterisk.
Gardner had a chance to put the game away with eight seconds left, Virginia up three, and, of course, the front end of the one-and-one missed.
Moments earlier, Clark connected on both ends of a pressure-filled one-and-one to push the lead to three with 28 seconds left.
This after Virginia had shot 9-of-22 in the OT win over Duke last Saturday, and 9-of-16 in the win at Louisville.
It's 15 feet, you're wide open, you have 10 seconds to get the shot off, you shoot these a million times in practice.
Fundamentals, man.