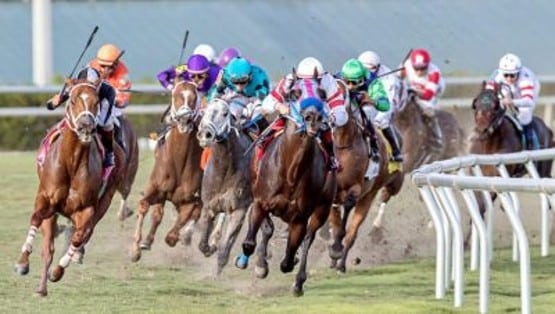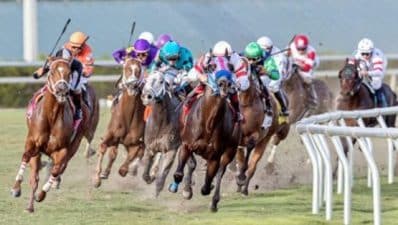 While under investigation after the deaths of 12 horses, PETA is calling for the suspension of racing at Churchill Downs.
Until an investigation by the Horseracing Integrity and Safety Authority (HISA) is complete, PETA is requesting that all racing and timed workouts be suspended, according to USA Today Sports.
"It's clear that Churchill Downs is not currently safe for Thoroughbreds," PETA Senior Vice President Kathy Guillermo said in an open letter to HISA CEO Lisa Lazarus on Tuesday. "It makes no sense to force horses to race and train while you're trying to figure out why they're dying during racing and training. PETA is calling on HISA to protect horses by suspending these activities at Churchill Downs until the investigation is complete."
HISA called an "emergency veterinary summit" in Lexington, Kentucky yesterday to review necropsies, toxicology reports, veterinarians' and trainers' notes on deaths, including seven horses which died before the Kentucky Derby was raced in early May.
According to the New York Times, Lazarus said HISA will have a recommendation by the end of the day today on whether and how Churchill Downs should proceed. "Everyone is committed to figuring out what is happening and committed to stopping it," she said. Her opinion was that if HISA made a recommendation to shut down racing, then the race course would accept the recommendation.
An act of Congress established HISA, which is overseen by the Federal Trade Commission, to ensure the health and safety of horse athletes: humans and equine. In May 2022, HISA enacted a law to eliminate doping and abuse in thoroughbred racing.
Yesterday's emergency meeting was called after two more horses were euthanized this past weekend, which brought the total of deaths to 12 since March 30.
"We remain deeply concerned by the unusually high number of equine fatalities at Churchill Downs over the last several weeks," the HISA said in a news release on Monday. "We continue to seek answers, and we are working diligently with Churchill Downs and the Kentucky Horse Racing Commission (KHRC) to mitigate any additional risk."
After "inoperable and unrecoverable" leg injuries on Friday and Saturday, Lost in Limbo and Kimberley Dream were euthanized. On May 6, seven horses died after injuries suffered during training or racing before the Kentucky Derby.
Churchill Downs Incorporated said it's "troubled by this recent string of fatalities."
"We do not accept this as suitable or tolerable and share the frustrations of the public, and in some cases, the questions to which we do not yet have answers," Churchill Downs said in a statement. The organization mourns the losses "as we continue to work together to discover cause and determine appropriate investments to minimize, to the degree possible, any avoidable risk in this sport and on our property."