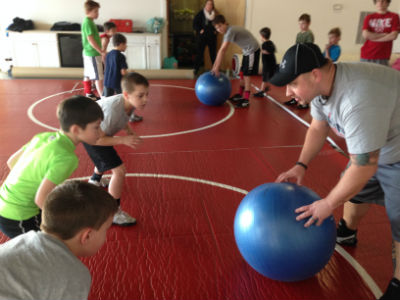 Most UVA sports fans will tell you their favorite coach is Tony Bennett. Eric Burton talks about UVA wrestling coach Steve Garland in more reverential tones than hoops fans can conjure up for CTB.
A former top high-school wrestler in his native New York, Burton founded the Waynesboro Wrestling Club in 2013 with 12 kids – boys and girls – and no idea where to hold practices, no place to host home meets and little else other than intense love for the sport that has held his attention since the age of 4.
The club has since found practice space at the Boys & Girls Club in Waynesboro, and is nearing the end of its second season in operation with 34 youngsters in grades K-8 competing.
Burton and his wife, Jamie, are now working on plans to find a permanent home for the club that will allow for more regular practice times, the ability to host meets and provide a foundation for future growth.
"It's amazing watching these kids progress," Burton said before a recent practice. "Some of them, the first day of practice in November, the only thing they know about wrestling is WWE on TV. That's the only thing they know about wrestling. To see where they're at right now versus then, it's amazing. That's why we do it."
Burton recalls attending the state high school wrestling championships in Salem, Va., not long after relocating to Virginia in the 1990s. Seeing some of the younger wrestlers who had qualified for states, he noticed the inexperience that comes with getting into a sport a little later.
"Kids who start little league baseball start at 4, 5, but kids here weren't getting started in wrestling until middle school, and it showed," said Burton, who served as a volunteer assistant with two local high-school programs before being approached with the idea of jumpstarting what became the Waynesboro Wrestling Club.
He knew the wrestling part, but didn't have as firm a grasp on details related to insurance, fundraising and the like. The Burtons quickly hooked up with the Waynesboro Parks & Rec department, got in touch with the Boys & Girls Club to take care of the space needs, and found several businesses willing to pitch in to donate time and money to help get things off the ground.
With the number of program participants having tripled from year one to year two, Burton is looking for space to rent that can accommodate the growing program, and more partners who can help with the overhead.
"Once we get our own place, we can put our own mat out like we're supposed to. We've been talking to people about bringing people in to do camps, not to raise money for the program, but to build the sport here in this area," Burton said.
– Story by Chris Graham