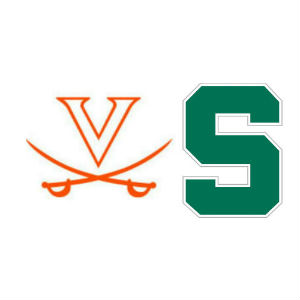 THE MODERATOR:  We'll take questions for the student‑athletes.
Q.  Akil, can you talk about Adreian Payne and the sort of the matchup trouble he creates because he's got the size inside, but can shoot from the outside.
AKIL MITCHELL:  Yeah, he will be a tough matchup.  He's been a tough matchup for teams all year because he can stretch the floor, he's got good touch and he can also put the ball on the floor and post‑up also.  So he'll be a good matchup for us, but I think we'll be prepared.
Q.  Joe, talk about what you've seen of Michigan State's defense and how you guys plan to go against it?
JOE HARRIS:  We watched a little bit of film this morning, actually right before we came over here.  Just saw some of their defensive tendencies.  They're not like an overly pressure‑oriented defensive team, they keep guys in front, they play very good help defense but they collapse on the ball quite a bit whenever you try and get any dribble drives or penetration.
So nothing new for us.  We're not going to change up anything that we do offensively.  We have no new sets, nothing like that.  What we have done to get us to this point has worked up to this time, and there's nothing new or nothing changes for us.
Q.  Joe, I know this would be exciting no matter where were you playing, but is there anything different or anything distinctive about being able to play here at Madison Square Garden?
JOE HARRIS:  Oh, yeah, I would just say that as a basketball fan just growing up, Madison Square Garden has always been the arena where you see big time players come in here, they go off for huge games, all the history and tradition that this arena has.  It's the world's most famous arena and just the fact that we have the opportunity to play here.  I mean like you said, regardless of where the Sweet 16 would be, it would be exciting, but the fact that we're playing in MSG, I mean it adds a little bit more something to it and it's very exciting, but at the same time we're just thankful and grateful to have the opportunity to even make it to the Sweet 16 and play in a venue like this.
Q.  Akil, Michigan State likes to run, obviously, and they're averaging about 20 points a game on fast breaks, how do you guys keep them from getting out in transition like that?
AKIL MITCHELL:  That's been one of our keys all year is to make sure we limit transition points, and it's something we focused on against Memphis was getting back in transition.  So it will be something that we have to focus in on again, getting the ball stopped, keeping them out of the paint, and then making them play against a set defense.
Q.  Coach Izzo was just in here and he said his team can be either racehorse or smash mouth.  If you guys had to describe your team, what would you pick as a way to describe it?
JOE HARRIS:  I would say smash mouth, I guess, if you're going to be taking from those two categories.  We don't really get up and down a whole lot.  We can, but we prefer to play half‑court kind of a grind‑it‑out, smash‑mouth type of game.
THE MODERATOR:  Akil, do you agree?
AKIL MITCHELL:  Yes.
THE MODERATOR:  Well said.
(Laughter.)
THE MODERATOR:  All right.  Thank you, guys.  We'll have an opening statement from Coach and then take questions.
COACH TONY BENNETT:  Looking forward to playing tomorrow certainly.  Any time your team can advance to the Sweet 16 and have an opportunity to go further, it's exciting.
Obviously we know what's in front of us with the quality of Michigan State, but just want to be as ready as we can and put our best foot forward.
THE MODERATOR:  Take questions for coach.
Q.  Wondering when you went about film study for Michigan State, they spend a lot of time with their incomplete roster, a lot of injuries and things, then over the last two and a half weeks have had the full team.  Did you have to kind of pick and choose which Michigan State you watched?
COACH TONY BENNETT:  Yeah, I know which Michigan State team we're going to play and that's the important thing.  How they played in the Big‑10 Conference Tournament, how they I don't want to say breezed through it but how they really were at times dominant and certainly in the NCAA Tournament.  That's who they are.  That's the expectations at the start of the year where they were projected has kind of come to fruition.  The level of basketball they're playing is showing.  That's who we're preparing for.  You watch those other games to see if there's some consistencies, but there is their full roster and certainly they're playing at a high level.
Q.  You guys have been really good against stopping other people's transition this year, what concerns you most about Michigan State?  They seem to be very successful at that.
COACH TONY BENNETT:  Yeah, they have always been as long as I've watched Coach's team, boy, this year they can really spread the floor with their ability to shoot, their speed getting up the floor.  They have some bigs that can trail and shoot it as well.
Someone asked me before, are there any teams you've played against that have prepared you that play similar to Michigan State?  And certainly Carolina runs, even Memphis, their speed in transition, but what I think is unique or very good about Michigan State is that they're very complete when they run.  It's not they have one guy who can buzz up the floor off the dribble, and they go to the rack.  They will do that, they can get there with their players, but they also will kick it up, spread it with their shooters, they got rim runners and it's what they do when they drill it.  And that's something he's always done, and I think this is one of his best teams in transition that I've seen.
And we're not going to change who we are, we're just going to have to probably do it a little better to try to stop that.  I think every team who plays them or teams like that, that's got to be a focus if you want to certainly have a chance against a Michigan State team.
Q.  When Coach Izzo was here he was talking about how familiar he is with you and your family certainly.  What's it like vice versa, just knowing what you do about the profession, how is someone like that able to get to this level and beyond so many times in a row?
COACH TONY BENNETT:  Yeah, he's a special coach.  I have the utmost respect for him and yeah, just going back from the experiences I've had watching him, certainly my father, he does it the right way.  He builds his program the right way.  They're tough, they're sound, they embody him.  My father told me, he coached at Stevens Point, Coach Izzo was playing at Northern Michigan at the time, and he said, how he played was similar to how he coaches.  And that's actually my father ‑‑ my dad wasn't a great player, and I don't know if Coach Izzo was a great player or not, but my dad said, "I wasn't a great player but I was going to play as hard as I could and defend and all that."  And you can see that about Coach Izzo, how his teams are.  He was assistant when I played against him at Green Bay, but then when I was on staff at Wisconsin, his teams, they were as sound and tough as you would find.
He's great for the game.  He really is.  And he's advanced because his teams, they're efficient offensively and they don't take possessions off and they're tough‑minded.  And that's a model that a lot of good teams have, that you're always trying to aspire to.
So certainly he's been great for us younger coaches.  I'm not that much younger now, but to see that and that's how you want to build your program.
Q.  In a sense, because of the style that you play, do you feel that your team is especially well equipped to match what they're going to do?
COACH TONY BENNETT:  It's going to be a war of attrition.  There's definitely some similarities, obviously they probably run more.  We'll try to opportunistically, but it will be a battle at who can execute best.
Certainly there's going to be ‑‑ hopefully it will be a physical game, it will be a sound game, and you're going to have to play that way to beat a Michigan State team the way they're playing.
I think that our guys understand that, and just watching them, this Michigan State team, as the first question suggested, where they're at right now, we understand that.  But are we equipped to play against them well?  I think when we're playing at our best, our style gives us a chance to beat the best.  We always talk about that.  That's how you prepare your team, so when you play against high, high‑level opponents, does your system, does your style give you that chance?  And that's what we have tried to build and build and we'll get our chance tomorrow.
Q.  As your team kind of rose slowly in terms of recognition throughout the year to be the last team to grab a No. 1 seed, whereas they were No. 1 early on in the year.  How do you use that mentally with your team?  Do you feel like you guys still are kind of not under the radar at this point, but have an underdog mentality, I guess, against a team like Michigan State?
COACH TONY BENNETT:  Yeah, underdog mentality but we have to have a hungry mentality.  And they will, we do, and we know again how we have to play.  I think our guys, they have been steady all year since we have gotten into conference play.  I think that they know what's in front of them, and again it's not changing anything, it's just doing it probably a little bit better.
But they're hungry to play and who wouldn't be in the Sweet 16?  I mean, I've been fortunate enough to be here twice now, as a head coach, to be a part of staffs a few times.  And again, the NCAA Tournament is the greatest sporting event going, in my opinion, being biased, of course, but every round you advance to you just feel the excitement, you feel the intensity and you get to step into this and that's ‑‑ whether you're talking about seeding, underdog, you just got to be hungry and ready, and that's what we're going to find out.
Q.  What's it been like for your team to be here?  I know some of them said, I don't guess any of them have ever played in the Garden.  A lot of guys have never been to New York.  What's been their reaction being here?
COACH TONY BENNETT:  We got in late last night because of the high winds.  We couldn't fly in, so got in and had a great meal.  Had our breakfast.  Did some film.  It's kind of business as usual.  I'm actually fascinated to see the floor out there because I played and we played the Knicks in the Eastern Conference semifinals in '93.  Played there, so I can't wait to see this.
But they know it's special, but I think that they're just looking forward to it.  So we haven't gone to a play or anything like that or done anything too amazing, but I think it will be enjoyable to be out there, and then I know there will be great excitement tomorrow.
Q.  I always like to ask coaches this:  I know you're busy with your team and preparing for every game, but during the Tournament do you get a chance to watch other games?  And if you do, what are your overall impressions of the Tournament this year?
COACH TONY BENNETT:  Yeah, in bits and pieces certainly you do.  I don't know if you can sit down and watch the whole thing.  You got your laptop probably watching film, but certainly you do.  I think every year ‑‑ the excitement's great and just the parity in college basketball, that's what makes this so good that there's different styles, different systems, and different teams can advance.
But again, the seeding, you're seeing more and more you don't even call them upsets, but that's what makes this exciting because you have to be so ready, everybody's capable.  I think that's been trending that way, but maybe even more this year.  I don't know the stats if there's more upsets this year than in years past, but that's why I think people love it.  And there's such joy in this.  It really is.
I was fortunate my first year with my father, I was just a volunteer with them and the year they went to the Final Four, to be a part of that run, and having played in it just captivated me.  I'm not going to mention who beat them in the Final Four.  I think we all know that.  But I just think there's such a time of excitement and it makes it very special.  I really appreciate this, but certainly am very hungry to carry this thing forward.
Q.  I know you're busy with preparing for Michigan State, but I was wondering if you were aware of the Northwestern ruling yesterday about the football team being able to unionize.
COACH TONY BENNETT:  Yeah, I mean, a little bit.  I'm probably the wrong guy to ask.  My SID said "They might ask you this question," and I'm like, well, I don't really have a good response.
So look, the NCAA as a player it's been great to me.  I know there's a lot of things going.  I can remember doing a speech in front of my class as a freshman when I was a college, explaining why I think college athletes should get a stipend to the class.  I remember the class looking at me at the time like, you're crazy.  What are you talking about?  And I tried to explain.
But it's a wonderful game.  The players do a lot for the game.  Hopefully there's going to be some good things coming, but as far as the specifics on that, I really truly would be the wrong guy to ask.  I would need to study it a little better and give you a more sound answer to that.
Q.  I apologize if you addressed this already but that 2008 trip to the Sweet 16 at Washington State, curious, what do you glean from that experience?  Can you use anything this weekend from 2008 to help you guys?
COACH TONY BENNETT:  Yeah, I remember how that Carolina team how good they were in transition with Lawson and Hansbrough.  That was a real good team.  Every team's different.  Certainly you have, but all of your past experiences shape what you're trying to do, little adjustments and how you prepare.
So yeah, certainly I'll take some of the lessons we learned, and use those in how we prepare for this, and some things to maybe even talk to our players about.  But again, different team.  We're playing, we're obviously in a different program and all those things, but there is some wisdom from it.
THE MODERATOR:  All right.  Thank you, Coach.