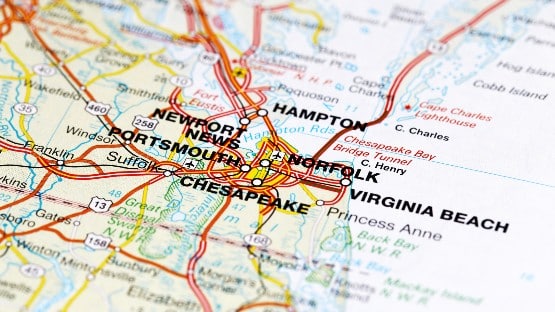 A Norfolk man was sentenced on Friday to 10 years in prison in a 2021 shooting that killed a man at a local hotel.
Gary Dewayne Toone Jr., 23, was sentenced for voluntary manslaughter following the Oct. 14, 2021, shooting death of 33-year-old Matthew Scott Philbrick.
The shooting took place at the Quality Inn on Premium Outlets Boulevard. Before the shooting, Philbrick could be seen on security footage roaming around the hotel rolling a suitcase full of clothes. According to court testimony, he eventually knocked on the door to Toone's room. Another individual in Toone's room opened the door, and Philbrick asked if anyone knew where the laundry room was located.
Multiple individuals in the room, including Toone, told Philbrick that they did not know where the laundry room was, then Toone slammed the door in Philbrick's face.
Toone then began to walk away from the door when Philbrick forced the door back open and rushed toward Toone. Toone pulled out a firearm and shot Philbrick, who was unarmed, once in the torso before fleeing with the other individuals who were in the room.
Philbrick was pronounced dead shortly after the medics arrived.
Norfolk Police located Toone several hours later at a different hotel in Chesapeake, and Toone eventually confessed to shooting Philbrick.
Toone pleaded guilty to voluntary manslaughter on June 16, 2022, and Judge Everett A. Martin accepted his plea.
"Gary Toone may have had the legal right to use non-deadly force, but he had no right to use deadly force to kill," said Commonwealth's Attorney Ramin Fatehi. "What Mr. Toone did is manslaughter, and Mr. Toone has been held accountable for the crime he has committed."
On Friday, Judge Martin sentenced Toone to 10 years, with three years suspended, for voluntary manslaughter. Toone's suspended sentence is conditioned upon uniform good behavior while in custody and for 10 years following his release from prison as well as indeterminate supervised probation upon his release.