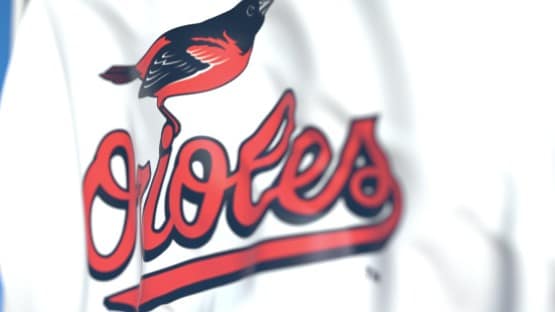 The Baltimore Orioles hope that sending Kyle Stowers back to Triple-A Norfolk makes him a bit more selective and effective hitter.
Stowers was sent back to Norfolk after last Sunday's game. Stowers was mired in a 2-for-30 slump with Baltimore, striking out one time in every three plate appearances.
Orioles' manager Brandon Hyde said at the time, "I'd like to see him get his confidence back, get some regular at bats, and work on pitch selection."
Stowers wasn't surprised about being sent down to Triple-A, acknowledging "it was a tough pill to swallow, but I know exactly what I have to work on."
Before being called up to Baltimore, Stowers was tearing up International League pitching, hitting .293 with five home runs. Once in Baltimore, his playing time was sporadic, with rare back-to-back starts.
Stowers struggled at the plate, batting just .077. With not a ton of at bats, he struggled adjusting to Major League pitching, often demonstrating a lack of plate discipline.
Stowers rejoins a Norfolk roster that contains several players that would immediately make another Major League team if given the chance. The talented Tides have provided Baltimore significant reinforcements already this season.
If Stowers needs encouragement to continue his push back to the Majors, he can look at current Orioles star Cedric Mullins.
Mullins joined the Orioles in 2019 and immediately made an impact. Unofficial team captain Adam Jones pushed Mullins to lead the club out of the dugout, and Mullins apparently became the future center fielder for the Orioles that night.
The move may have been a bit premature for the former 13th-round pick, as Mullins was sent back to Norfolk twice before arriving back in Baltimore to stay during the 2021 season.
Mullins struggled so badly at Norfolk that he received a second demotion to Double-A Bowie. Mullins' return to the Majors resulted in an All-Star selection in 2022.
The road to the Majors takes many turns.
Last week in Norfolk
Syracuse rolled to a 9-1 victory over the Tides Sunday that forced Norfolk to settle for a six-game series split with the Mets. It was only the second series the Tides (31-13) haven't won this season. They have yet to lose a series this season.
Outfielder Jordan Westburg continued his push to Baltimore. The outfielder went 12-for27 at the plate with a homer and seven runs batted in the series with Syracuse.
Norfolk heads to Tennessee next
The Tides will be on the road for a six-game series with Memphis Red Birds (St. Louis Cardinals') beginning Tuesday night.