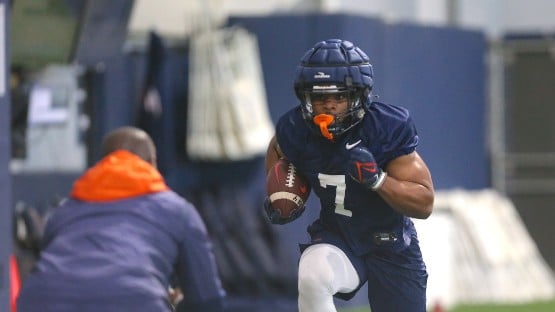 It's been four months – to be precise, four months and a day – since a gunman opened fire on a charter bus returning from a UVA drama department field trip, killing three people, football players Devin Chandler, Lavel Davis Jr. and D'Sean Perry, and wounding two other students, including Mike Hollins, another football player.
Hollins sustained life-threatening injuries in the shooting, before walking out of the hospital eight days later.
That same Mike Hollins, four months and a day later, was on the field for the first day of football practice on Tuesday, as a full participant.
Unbelievable, right?
Not to his teammates.
"They call him Iron Mike for reason," said Perris Jones, a fellow tailback and fellow fifth-year player. "You know, his strength and his spirit, you know, his character, it really shows through every day out here throughout workouts and throughout practice. And it's just, you know, motivating, you know. You see a guy go through so much, and Mike is actually my roommate, so, you know, I spend a lot of time with him outside of the facility as well.
"Just the way he's carried himself throughout this tragedy, and how he continues to carry himself, it's, I mean, it's surreal," Jones said. "You know, he is a strong man, you know, I mean, in his fight every day, he encourages all of us to continue to fight, and to do the best that we absolutely can. Because if he can do it, we can as well, so it's definitely motivating."
"I've been real close with Mike ever since we got here in 2019. And just seeing him, you know, push through what he had to go through, and to get back on the practice field, I can imagine that's not easy at all," fifth-year defensive back Antonio Clary said. "And for him to just look the way he looks now, and just, you know, we went through winter workouts with him and stuff like that every single day, he's just progressed, and looks even better and better and better.
"Seeing him out there today, it just, it just brought joy to me, just to see him play football again and doing what he loves to do. So, yeah, it was really great seeing Mike out there today," Clary said.
Hollins was hailed as a hero for his actions during the shooting. He led a group of students to safety as the shots began ringing out, then returned to the bus to try to aid others who had not yet evacuated the scene.
It was at this point that he confronted the shooter, Chris Jones, 23, who was a UVA student on the field trip.
Jones pointed the gun at Hollins, who turned and tried to run, and was shot in the back.
The bullet that went through Hollins' back damaged his kidneys and small intestine, injuries that put him for a time on a ventilator and required two surgeries.
Hollins was not made available to the news media after the program's first spring practice. UVA football is trying to return to some sense of normalcy, if there can even be a new normal after what happened in November.
"Just grateful to have an opportunity to get to play football again," head coach Tony Elliott said. "It's been a long time, and definitely still got heavy hearts for everything that we went through as a program, you know, still, you know, grieving and supporting the families of Lavel, Devin and D'Sean, but really, really just grateful to be on the grass is big picture for me."
Some of the butterflies in the stomach were dealt with when the team returned to school in January after the Christmas break.
"I think coming back in January, I was a little bit nervous, apprehensive, because they had been gone for such a long time. And obviously, everything was still really new. But the guys came back with just an unbelievable sense of urgency and unbelievable spirit about them. And they carried that weight into the weight room. And the strength staff, as I said before, did a great job of just fostering, you know, that energy, so I just didn't want to mess them up," Elliott said.
The football program offered media training to team leaders, Elliott said, to prepare them for the questions they could expect to get from reporters about what happened, in addition to the work done by the sports psychology department to address individual and group needs in terms of processing the tragedies.
It's to a point where Elliott is actually focused on not overdoing it.
"I'm just grateful to be on the grass, grateful to have an opportunity to be here at the University of Virginia, and, you know, lead this program, lead these young men," Elliott said. "All the guys have decided to come back and pick up the pick up the pieces and turn this tragedy into triumph, so it's really a blessing for me to see all these guys run around."
Seeing Hollins, who rushed for 215 yards and two TDs last fall, and had 114 yards receiving, back on the field was the biggest blessing.
"I've been so, so impressed with him just all the way around, physically, how his body is recovered, but more importantly, just how spiritually, mentally he's responded and prepared himself to get back out here and compete," Elliott said. "I'm really, really proud of how he's progressed, and his status is, he's full go, but we'll be smart as well as we transition him into some of the full contact stuff, because we want to be mindful of where his body is, and let him kind of go at his pace. He's a guy that's played a lot of football, so it's not something where we have to throw him right into the fire to figure out what he can do. I want to do what's best for him, both mind, body and spirit."