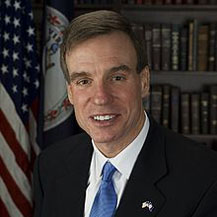 In response to a request from U.S. Sen. Mark R. Warner (D-VA), the Metropolitan Washington Council of Governments (COG) and the Washington Metropolitan Area Transit Agency (WMATA), the board which governs the Metro transit system, pledged to implement a system for testing of Metro and regional emergency radio systems in order to address the breakdown in communications that was identified following the fatal incident at L'Enfant Plaza Metro station on Jan. 12.
Initial investigations have indicated that problems with emergency radio systems prevented DC fire and rescue personnel from communicating with each other and with Metro officials at the scene and hindered emergency personnel's ability to respond and evacuate riders. A recent test of radio equipment at Montgomery County Metro stations reportedly revealed problems with the system similar to those that impeded emergency response during the Jan. 12 incident at L'Enfant station.
"I am encouraged that Metro is now developing a plan to regularly test emergency communications systems with local governments, but what I want to see from Metro is a real sense of urgency when it comes to fixing problems with emergency communications," said Sen. Warner. "While Metro works with its regional partners to develop protocols for routine testing and troubleshooting, it must also establish that radio systems are working effectively across the region right now. If problems are detected, we should expect that that they will be addressed in a matter of hours, and not days or weeks."
On Jan. 22, following a congressional briefing by WMATA executives and National Transportation Safety Board officials investigating the fatal smoke incident onboard a Metro train at L'Enfant station, Sen. Warner wrote toCOG and WMATA, asking the regional oversight boards to work together to design a more robust and transparent process for ensuring the interoperability of radio networks used by the region's emergency responders.
Current protocols for emergency response in the Metro system are laid out in the Metro Rail Transit – Fire/Rescue Emergency Procedures Policy Agreement of 2011, which was coordinated through COG and signed by Metro and every regional fire chief. While the agreement details roles and responsibilities around incident command, it does not address collaborative testing of radio communications by WMATA and emergency first responders to confirm interoperability. Currently, local jurisdictions are responsible for their own testing and there is no regionally coordinated schedule for testing or reporting.
In their letter to Sen. Warner, WMATA and COG laid out a plan to update the Agreement to include protocols for regular testing of emergency radio communications as well as the effectiveness of cell phone communications across the Metro system.
"We share your resolve that the Metro transit experience be as safe as possible, and want to assure you that we are working together to establish formal protocols and procedures for radio testing that will be incorporated into an agreement between the regional emergency responders and WMATA," wrote Mort Downey, Chair of the WMATA Board of Directors, and Alexandria Mayor William Euille, Chairman of the COG Board of Directors. "In addition to the testing that already takes place, following the incident at L'Enfant Plaza on January 12th, WMATA and jurisdictions with Metrorail stations report that they have tested the radio communications. We are working systematically to address any issues that were found during the testing in order to assure that radio communication within the Metrorail system is in good working order. In addition, we are working together to identify any other areas where improvements can be made in emergency communications and incorporate them into the agreement."
A PDF of the response letter to Sen. Warner can be accessed here.