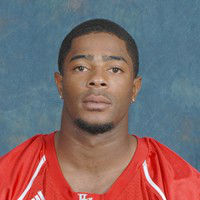 New England quarterback Tom Brady got to hold his fourth Lombardi Trophy Sunday night. The Super Bowl was won because of a play made by a guy named Malcolm Butler who five years ago was a college dropout working at Popeye's.
Butler only played two years of high-school football because of bad grades. He got kicked off his community-college team five games into his freshman season, went to work at Popeye's, went to summer school to get his grades up, then had a good enough sophomore season at the community college to earn an invite to Division II West Alabama.
Butler starred there, but if you know anything about college football, being a star at D2 and $4 gets you a cup of coffee at Starbucks. He didn't get drafted, signed with New England as a rookie free agent, mainly because of his abilities as a special-teamer, not so much because of how he projected in the NFL as a corner.
Keep in mind that most undrafted free agents get signed to play catch with the guys who actually make the team.
Then think about where we are in this narrative at this point. Played two years of high-school ball, parts of two more seasons of community-college ball, did his best work in D2, made the NFL as an undrafted free agent.
Didn't have an interception all season long. (His stat line for 2014: 15 tackles, 3 passes defensed in 11 games.)
Clock ticking down inside a minute of the Super Bowl, New England clinging to a 28-24 lead over Seattle, ball at the 1. Marshawn Lynch had just run five yards on first-and-goal. Bill Belichick had two timeouts in his pocket, but decided against using them.
The game would come down to whatever happened on second down, third down, fourth down, if necessary. It seemed obvious that Seattle, which also had a timeout to use if it needed one, would just hand the ball to Lynch, "Beast Mode," who would bulldoze his way into the end zone for the game-winning score, or maybe try a changeup with quarterback Russell Wilson running out of the read-option.
Nobody in the stadium, aside from the Seattle sidelines and then Wilson in the huddle, foresaw quick slant to Ricardo Lockette.
Add Butler to the list of those who saw it coming, actually. Butler jumped the route, beat Lockette to the ball and made a clean catch at the goal line.
Ballgame.
Brady got his fourth Super Bowl, his third Super Bowl MVP. Butler got the ball that made it happen.
You can hate on New England for Deflategate, Spygate, whatever else you want to, but you can't hate on Malcolm Butler.
"I just had a vision that I was going to make a big play and it came true," Butler said. "I'm just blessed. I can't explain it right now. It's crazy."
Yeah, crazy.
– Column by Chris Graham