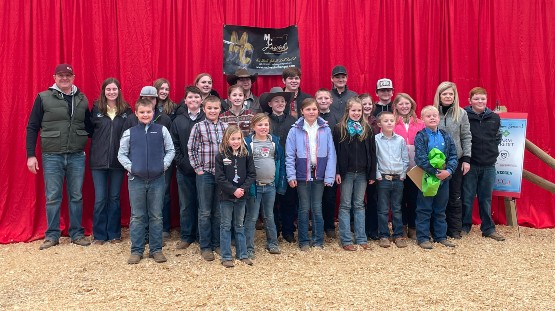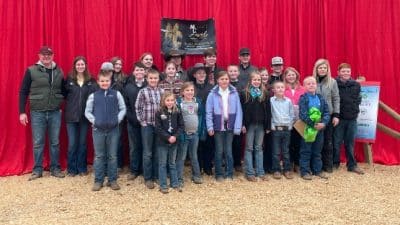 Amanda and Wes Marshall of Marshall Farms LLC in Weyers Cave directed a $5,000 Bayer Fund America's Farmers Grow Communities donation to the Augusta County 4-H Livestock Club.
The Bayer Fund doubled the America's Farmers Grow Communities donation from $2,500 to $5,000 last year. The donations allow farmers to provide grants to local nonprofits and schools in their communities.
The Augusta County 4-H Livestock Club is 50 youth ages 9 to 18 and focuses on the livestock knowledge contests: livestock judging, meat judging and skillathon. Members learn how to select quality livestock based on standards, learn about meat identification and quality, and focus on equipment, breed and feed identification.
The club travels across the Commonwealth and nationally. The donation will cover contest registration fees, costs of purchasing study equipment and supplies, travel costs and help cover costs of attending out-of-state livestock knowledge camps this summer.
"I am extremely grateful to the Marshall family for directing this donation to the Augusta County 4-H Livestock Club. This club is very active and our volunteers are dedicated to providing amazing opportunities for the members, but those opportunities are not cheap. This funding allows our Augusta County kids to continue to do what they love and to represent Augusta County in a really positive, successful way on the state and national levels," Emmalee Edwards, Augusta County 4-H Extension Agent, said.
Grow Communities has partnered with farmers for more than 10 years to direct funds to programs and organizations that contribute to their communities' health and vibrancy, such as food banks, schools and youth agriculture programs. Since 2010, the initiatives have awarded nearly $65 million to local programs.
"Each year we hear from several nonprofit and school leaders, as well as farmers, about the ways Grow Communities has made a difference," said Bayer Fund President Al Mitchell said.
Farmers will have another chance to enter and obtain the opportunity to direct a donation in August 2023.