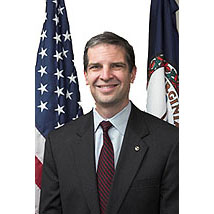 Tomorrow, the General Assembly will adjourn—and, thanks to Obamacare, it will adjourn without adopting a budget. More on that in a few days. For now, I want to tell you about some important legislation I was able to get through this year on issues like human trafficking, synthetic drugs, and property rights. All of these measures passed with broad bipartisan support.
Emerging Drugs
The narcotics landscape has changed drastically in recent years with the rise of synthetic cannabinoids (commonly known by names like "Spice" and "K2") and research chemicals (commonly known as "bath salts"), many of which have been readily available in convenience stores and other locations where you would never expect to find dangerous drugs.
And make no mistake about it: these are dangerous drugs. Back in 2011, when the General Assembly first began to take up the issue, we sometimes called this emerging class of drugs "synthetic marijuana." The name was very misleading, because this is not just marijuana from a chemistry set.
Tragically, these synthetic drugs are often significantly more hazardous than their counterparts. They have been known to trigger psychotic and violent behavior after even short term use in some cases, and potency can vary greatly from batch to batch. Many of these synthetic cannabinoids have been sold in convenience stores and marketed as legal alternatives to various drugs. Purchasers often have no idea what they're getting, or how much more dangerous these emerging drugs can be than drugs they are intended to mimic.
Here in Virginia, we have sought to ban these drugs, but their synthetic nature posed a challenge: you can ban a compound, but all the manufacturer has to do is tweak the formula ever-so-slightly and suddenly you have a new substance that isn't illegal.
My bill (SB 594) tackled a number of issues related to these emerging and designer drugs, but perhaps its most important element is an "analogues" component that provides that drugs that are chemically similar to, or advertised as having the same effects as, an illegal drug are subject to the same criminal penalties associated with the drug it mimics.
The federal government has relied on an analogues statute for over two decades, and as synthetic drugs have become more prevalent, several states have begun to follow suit. With the passage of this legislation, law enforcement will be able to get these dangerous drugs out of stores and off the street.
Human Trafficking
While on the campaign trail last year, I talked a lot about human trafficking. It's the second-largest and fastest-growing criminal enterprise, and it's taking place in our own backyards. In particular, the sex trafficking of children is the next front in the fight against predators, with the average age of those entering prostitution being thirteen—with many much younger.
This year, I introduced Senate Bill 454, which has now passed both chambers. The bill makes it a felony to recruit for or profit from the sex trafficking of minors, and it adds those who engage in commercial sex with a minor to the sex offender registry. This legislation addresses significant gaps in Virginia law, and will help us continue to build on the great strides we have made in recent years in combatting human trafficking.
I also secured passage of SB 654, which will provide every law enforcement officer in Virginia with much-needed model policies for combatting human trafficking.
These bills are not, however, sufficient. Although there are a number of charges that can typically be brought against traffickers, Virginia is one of only two states without a stand-alone human trafficking felony, which has hampered investigations and convictions. I introduced legislation to create a stand-alone felony. Unfortunately, the bill died in the House, but I'll be back next year to continue to work on this important issue, so that we can continue to enhance our efforts to keep the most vulnerable among us safe from harm.
Property Rights
Two years ago, Virginians overwhelmingly affirmed their commitment to private property rights with the ratification of the Property Rights Amendment. But sometimes, property rights cases don't involve outright takings, but instead deal with overreaching—in the form of demands for payments or unreasonable conditions—by local governments in response to efforts by a property owner to use his or her land. And let's face it: when property owners run up against city hall, it doesn't always seem like a fair fight.
That's why I carried SB 578, legislation leveling the playing field for property owners challenging unconstitutional land use determinations. The bill simply establishes that when a property owner proves in court that a decision to grant or deny a land use permit turned on an "unconstitutional condition," the land owner is entitled to compensatory damages and reasonable attorney fees.
It shouldn't matter whether you're a Republican, Democrat, or independent: we should all be able to agree that if you can prove in court that the government abridged your rights, you shouldn't have to be the one footing the bill.
Looking Ahead
In the coming days, I intend to write further on important issues taken up by the General Assembly, like mental health reform, and on the budget impasse forcing us into special session. But for today, I'm pleased to be able to report that these important bills on property rights, human trafficking, and synthetic drugs have all passed the General Assembly and should soon be signed into law.
As always, I hope that you will let me know your thoughts on these important issues, and that you will not hesitate to write me if you have any questions, comments, or concerns about these or other issues that have come before the General Assembly.