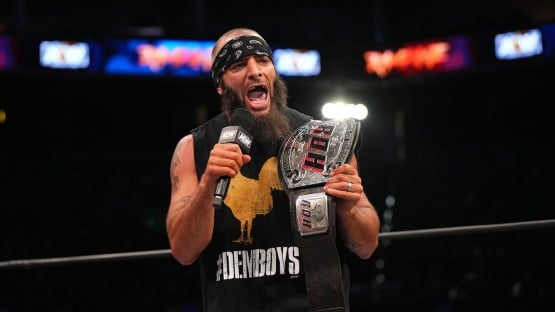 Yeah, Tony Khan got me again at the last minute. I wasn't going to buy his "Supercard of Honor" pay-per-view on Friday, but now that it's announced that Mark Briscoe will be challenging Samoa Joe for the Ring of Honor TV title, damn.
There are other good matches on the card that will get my attention. ROH world champ Claudio Castagnoli defends against Eddie Kingston, Pure champ Wheeler Yuta defends against Katsuyori Shibata – which actually, Shibata, holy s–t – and El Hijo del Vikingo defends his AAA Mega championship against Kommander.
But it's Mark Briscoe getting a title shot, in what I assume will be a title change, that has me ready to plunk down the $39.99.
Thing is, I wonder how many others will be joining me.
Khan made the curious to me business decision to put Ring of Honor behind a paywall, and I'm not even among those paying the $9.99 a month to be able to tune in.
I'm not sure of the wisdom of putting content behind a paywall, particularly when there's so much wrestling content out there.
Think about it: if you're a wrestling fan, you can already watch, in a week, five hours of AEW (between the TV shows and the YouTube shows) each week, five hours of WWE, two hours of Impact, an hour of New Japan, an hour of MLW, an hour of NWA, for what you already pay for whatever cable, satellite or streaming you subscribe to.
So, on top of 15 hours of what you can already watch for you're already paying, Khan thinks you'll want to give him another $2.50 a week to watch another hour.
I'm sure some folks are doing that, but if it's me, I'm giving away the weekly stuff for free on YouTube, building an audience there, and making my money back on the pay-per-views.
That said, yeah, he suckered me in again with another Briscoe match.
The Briscoes vs. FTR was what got me to buy Khan's ROH pay-per-views last year.
I might be the rare bird who will buy this show sight otherwise unseen in terms of how the ROH product is being presented, of course.