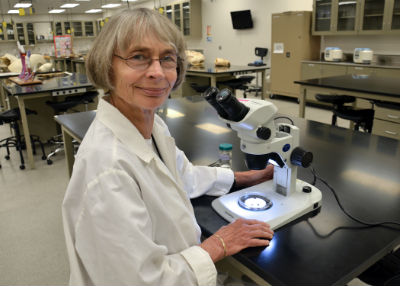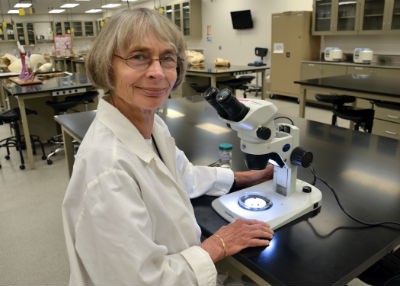 One-third of deer ticks collected from sites in Giles and Pulaski counties carry the organism responsible for Lyme disease, a study at the Virginia-Maryland College of Veterinary Medicine at Virginia Tech has found. This follows reports from veterinarians and physicians showing higher rates of the tick-borne disease in Southwest Virginia's New River Valley.
Dr. Anne Zajac, professor of parasitology in the Department of Biomedical Sciences and Pathobiology, co-authored a paper in Vector-Borne and Zoonotic Diseases last fall that revealed the startling number of deer ticks carrying Borrelia burgdorferi, the bacterium that causes joint pain and flu-like symptoms in both people and dogs with Lyme disease.
Even though the American dog tick, which does not carry the disease, was previously thought to be the region's predominant tick species, the deer tick population has expanded in recent years.
"Deer tick does well in cold weather, so even in the winter, people have to be vigilant," Zajac said. "Pet owners also need to be concerned about ticks and seek tick protection for dogs and cats year-round."
The Virginia Department of Health has reported high rates of confirmed Lyme disease cases among Southwest Virginia residents. Some people who are infected with the disease develop a bull's eye mark around the bite mark before developing a fever and joint pain, but not all do. Similarly, veterinarians in the area have seen an increasing number of dogs with these symptoms in their clinics.
"Based on what we've seen clinically, more and more dogs in our area are testing positive for exposure to the agent that causes Lyme disease every year," said Dr. Mark Freeman, assistant professor of community practice in the Department of Small Animal Clinical Sciences.
Freeman works in the Veterinary Teaching Hospital's Small Animal Community Practice, which provides primary and preventive health care to patients within a 35-mile radius of Blacksburg. Although Lyme disease presents a number of challenges to diagnose and treat, canine patients typically respond well to a three- to four-week round of antibiotics.
"There is a Lyme disease vaccine for dogs, but it is optional based on risk of exposure," he said. "For a small dog that stays mostly indoors, we might just recommend a good tick repellent instead, but for dogs that go hiking or spend a significant amount of time outdoors, we would recommend the vaccine and follow-up boosters."
Freeman encourages dog owners to use products that repel or kill ticks regardless of their dog's vaccination status because ticks can spread a number of ailments, not just Lyme disease.
To determine how many deer ticks in the area carried Borrelia burgdorferi, Zajac and Mauricia Shanks,  a pet grooming business owner and Lyme disease awareness advocate in Giles County, used cloth drags to collect more than 350 ticks from three sites in Giles and Pulaski counties. The sites included a public park, a residential area, and a playground near a recreational lake.
Dr. Brian Herrin, a graduate researcher at Oklahoma State University, identified the bacteria in the ticks as a part of his dissertation project and found a 33 percent prevalence rate. He worked under the supervision of paper co-author Dr. Susan Little, who completed her doctor of veterinary medicine degree from the Virginia-Maryland College of Veterinary Medicine in 1993 and is now one of the top veterinary entomologists and tick experts in the United States. She established the National Center for Veterinary Parasitology at Oklahoma State University in 2009.
Zajac also worked with Dr. Mary May, a veterinarian at the Dublin Animal Hospital in Pulaski County, Virginia and 1989 graduate of the veterinary college, to review canine medical records between 2008 and 2012 and confirm that the Lyme disease agent is emergent or endemic in the region.
Other researchers at the regional college are also investigating Lyme disease. Last year, Dr. Utpal Pal, an associate professor at the University of Maryland's Gudelsky Veterinary Center, received a $1.5 million grant from the National Institutes of Health to continue his research on how the symptom-causing bacteria can adapt to and survive in a variety of different hosts, such as deer ticks, mice, dogs, and humans.
For more information and resources on tick identification and testing, visit the University of Rhode Island's TickEncounter Resource Center.