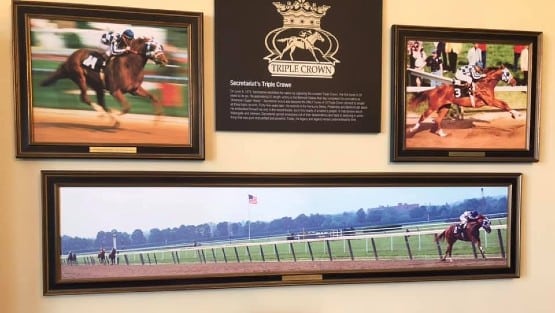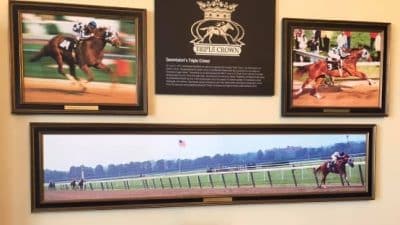 I have been horse crazy for as long as I can remember.
When I was born, my parents had a pony and a gelding Quarter Horse. I fed them almost every day after school for the last two years they were alive before they died in 1991.
So you won't be surprised to know I was yelling at the television Saturday evening hoping that Mage, who won the Kentucky Derby just two weeks ago, would win the Preakness Stakes 148. He was the odds-on favorite but must have had a bad day on Saturday. At the Kentucky Derby he stayed back and came up from behind at the right moment for the win. I expected him to do the same at the Preakness but he didn't seem to have the same gusto after a couple laps around the track.
This means that again we will not have a Triple Crown contender this year.
For non-horse racing fans, let me explain. A horse must win all three Triple Crown races, the Kentucky Derby, the Preakness and the Belmont Stakes, in order to be a Triple Crown winner.
Doesn't sound easy, does it? Well, that's because it isn't. Only 13 horses have done it before, including the first, Sir Barton, in 1919, Secretariat in 1973, American Pharaoh in 2015 and Justify in 2018.
The Kentucky Derby, also known as "The Run for the Roses," because the horse who wins receives a necklace of roses, is run on the first Saturday in May. The Preakness, or "The Run for the Black-Eyed Susans," is raced the third Saturday in May. The Belmont Stakes is raced the third Saturday after the Preakness, and is also known as "The Test of the Champion."
American Pharoah, whose name is misspelled Pharoah, is a fifth-generation descendent of Secretariat on his dam's side.
Justify is a descendent of six previous Triple Crown winners: Gallant Fox, Omaha, War Admiral, Count Fleet, Secretariat and Seattle Slew. He is a sixth-generation descendant of Secretariat through both his sire and dam.
American Pharoah and Justify are the only living Triple Crown winners, and were both trained by Bob Baffert, who also trained this year's Preakness winner, National Treasure.
On March 30, 1970, a red chestnut colt was born in Doswell, Virginia at Meadow Farms. He stood within 45 minutes of being foaled. He was named Big Red, but horseracing and history would know him as Secretariat.
He brought fame to the farm in Caroline County, Virginia, while his owner, the late Penny Chenery Tweedy, made her mark on horseracing. I almost met her when I was a reporter in Caroline County in 2011. She and her daughter, Kate Tweedy, visited to promote Kate's new book, "Secretariat's Meadow." I didn't have the nerve to introduce myself to Penny. Maybe I was intimidated to meet the woman who had paved the way for other women in horseracing.
But if Penny paved the way for women, Secretariat paved the way for horseracing as a beloved American sport. He continues to hold the record times for all three Triple Crown races.
A few years ago, in a tour of the farm where he was born, a tour guide once told the story of when a pasture on the farm flooded. Big Red and his damn were out in that pasture and had to be rescued before flood waters rose. Other stories have been passed down of a colt who got into mischief as often as possible. And horse racing fans know that Secretariat was well known during his racing career to appear to pose for press photos as if he understood he was marked for history.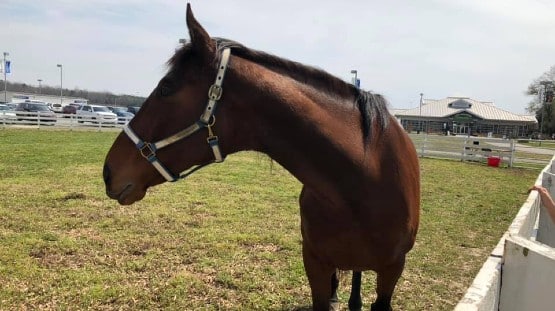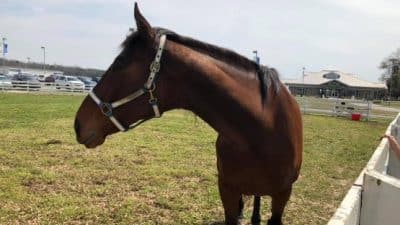 After his Triple Crown win in 1973 and being named Horse of the Year, Big Red retired to Kentucky and sired more than 600 foals. His legacy was seen in several of his daughters who proved to be excellent racers and broodmares. His great-great-granddaughter, Groundshaker, and I share a birthday. She was the last horse bred and raced by Penny Chenery Tweedy. She lived at Meadow Event Park, formerly Meadow Farms, a few years ago when I visited and I got pictures of her. I follow her on Facebook. She lives in Kentucky now.
A horse's life span is usually 20 to 30 years. Most do not live beyond 25. Secretariat was 19 in the fall of 1989 when he developed laminitis, a painful hoof condition. He was euthanized on Oct. 4, 1989. Several statues have been erected of the greatest horse who ever lived. The most recent was unveiled in 2019 in Lexington, Kentucky during the Secretariat Festival. Jocelyn Russell created the bronze statue of Secretariat and Ron Turcotte winning the Kentucky Derby. A replica by Russell began a tour in Ashland, Virginia this year.
I thought of Secretariat Saturday evening while I watched Mage make his way around the Pimlico Race Course. Fifty years ago, Secretariat had won two of the three races and was on his way to becoming the next Triple Crown winner. I hoped Mage would also make it.
I guess that's why Big Red is considered a legend in horse racing, as well as an American sports legend. He was one of a kind.
Long live Big Red.