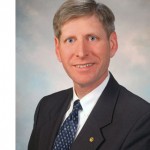 Is Steve Landes using your tax dollars to track down wild partisan allegations that the White House is tracking your blogs and comments?
He told the News Leader for a story on the "Nazi" remark controversy published Friday morning that he has staff engaged in the pursuit of "information out there that the White House is tracking blogs and comments."
(Link to the Leader story- http://tiny.cc/wrqwB)
And so adds another layer to this bizarre story – as the shine comes off the Steve Landes-as-a-moderate gloss that the 25th District state delegate had so carefully buffed up the past 14 years.
Landes addressed the controversy over his comments to a Republican Party picnic in Fishersville comparing the Obama administration to Nazi Germany and the Soviet Union in separate interviews with the Leader and the News Virginian.
"I'm not going to apologize for speaking my mind," Landes told the NV.
(Link to the NV story- http://tiny.cc/YRfXm)
The piece-of-mind in question: "When you've got a White House that's keeping names of people that don't agree with them, that reminds me of what went on the Soviet Union and in Nazi Germany," Landes told the GOP picnic.
As was first reported on the AFP by a Republican supporter who attended the picnic, the comment came up in the context of a conversation he'd had with a person attending the picnic about fears associated with putting a Republican campaign sign in her yard and putting a GOP bumper sticker on her car.
"And they're afraid because they're afraid their neighbors are going to tell on them," Landes said.
Landes told the NV that he has been told on four or five occasions in the past couple of months by Republicans in Waynesboro that they are afraid "that the other side is using intimidation."
"The White House is checking on whether they support the president," Landes also told the NV.
Landes defended the comparison of the Obama administration to the Soviet Union and Nazi Germany in a comment to the Leader.
"They both tried to intimidate and control the people," he said. "I'm a student of history, and (the Soviets and Nazis) are the two that are the most egregious examples of those who used those tactics. I'm a history buff and I use the most relevant and strongest example of what people do."
– Story by Chris Graham