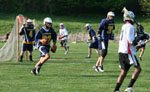 Story by Chris Graham
[email protected]
 
The skies have opened, but despite the threat of more heavy rain on the way, this is lacrosse, and lacrosse players, as much if not more than football players, are nothing if not tough, so the game between Fishburne Military School and visiting Stuart Hall is on.
"It got pretty brutal out there," said Chase Estes, a sophomore midfielder at Fishburne, who scored two goals in the Caissons' 10-3 win on April 8. He was sporting a series of bruises on his thighs and hips that could make the toughest-stomached observer queasy to look at to prove how brutal things had been.
Estes is on the college lacrosse recruiting radar, which is remarkable when you consider that he plays in a market in which none of the seven local public high schools even field a team.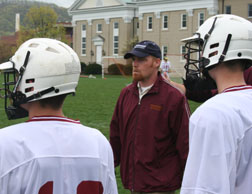 That market itself is remarkable in that the blackout area is less than a half-hour from one of the nation's lacrosse hotbeds in Charlottesville, where the men's and women's teams at the University of Virginia are perennial national-championship contenders and kids are as likely to grow up with sticks in their hands as they are bats and gloves and basketballs.
"You have a lacrosse powerhouse at UVa., and an hour around other lacrosse hotbeds like that you see lacrosse hotbeds at the high-school and youth levels. It's unusual that we don't have that here," said Jeff Goering, the lacrosse coach at Fishburne, who inherited a program that was 0-10 two years ago and is patiently building a lacrosse culture at the Waynesboro private school.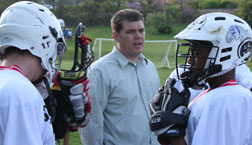 Dan Frye is trying to do the same thing a few miles to the west in Staunton at Stuart Hall, which started its lacrosse program in 2005 and hired Frye, a former assistant and head coach at Blue Ridge, last year.
"The Stuart Hall guys are bright kids, so I can teach them the complicated plays and then work on the fundamentals. They pick up on things quick. They're good kids," said Frye, who will with the help of his returning players begin a middle-school program at Stuart Hall in the fall.
"I still think of this as a new, sort of building program. The sport is still new to the Valley, so we still do a lot of teaching at this level. We're playing a lot of teams in the Valley that are doing the same thing," Frye said after another 10-3 loss, at home to Fluvanna County on April 15.
At least that was what we had the score at. The Stuart Hall-Fluvanna game was a sort of a sign of the times for how early we still are in the development of the game of lacrosse locally. The Fluvanna team bus had mechanical issues, delaying the arrival of the boys' team for its scheduled 5 p.m. start and the girls for their 6:30 p.m. match against the Stuart Hall girls.
The scramble to get both games in left game officials in such a daze that it wasn't until the start of play in the second quarter that anybody realized that no one had been keeping score.
We had the score at 6-0. It was determined that the official score was 4-0. The official final score was 8-2, though our running tally had it at 10-3.
Frye is getting used to the second-class status that lacrosse has on the local-sports scene. So for that matter is Goering, who helped with the development of now-flourishing youth-lacrosse programs in the Philadelphia area in the 1990s.
"I've been involved in other startup programs, and in a sense that's what this is. You've got to be able to teach the fundamentals, teach the basics," Goering said.
"The more years that you have a consistent program, it just builds from that foundation," Frye said.